Art Therapy is Helping Young Patients in Military Families Better Cope with their Illnesses
May 11, 2020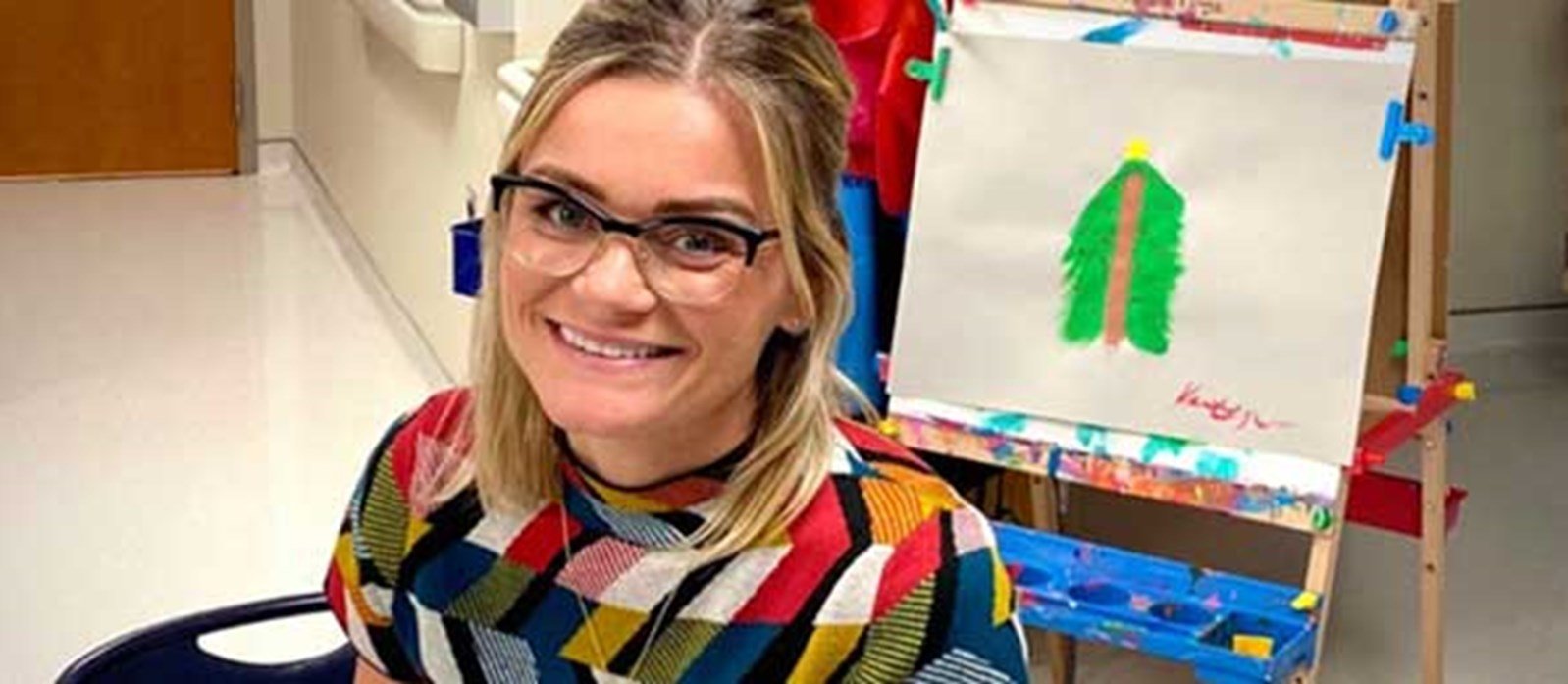 By Breaking Defense
May 2020 — Trying to navigate a difficult medical diagnosis can be challenging for anyone, especially for children and young adults. Suddenly, they find themselves confined to a world stripped of all normalcy, their former lives reduced to medical procedures, to isolating and sometimes painful experiences, leaving them struggling to find their footing amid a sea of healthcare professionals.
While trusting in the care of others and the love of their families are two ways to survive the unthinkable, the Henry M. Jackson Foundation for the Advancement of Military Medicine (HJF) has found another way. That way is through art.
Since early 2019 , HJF has partnered with Tracy's Kids to employ art therapy as a means of helping patients and their families cope with the emotional effects of medical trauma.
"We're the first art therapy program embedded into a pediatric oncology service at a military treatment facility," said Kristin Ramsey, HJF's creative art therapist.
As an art therapist, Ramsey often finds herself as the agent of a comforting force during disruptive and challenging times, giving families, attending physicians, and medical staff insight into a patient's mental state during treatment, lending a sense of cohesion amid a period of emotional and physical upheaval.
"It's a very trauma-informed process and trauma is something that we deal with on a daily basis," explained Ramsey. "We had a 10-year-old girl who was preparing for a bone marrow transplant. We were about thirty minutes into an art therapy session and she looked at me and said "is it going to hurt when they take all my bones out?"
Equipped with that bit of information, Ramsey was able to approach the girl's medical team and make them aware of her lack of understanding about the upcoming procedure. That, in turn, enabled them to address and subsequently alleviate the girl's concerns.
Tapping into the Left Side of the Brain
To help patients tap into the creative parts of their brain that wouldn't typically be expressed in a sterile, clinical setting, Ramsey employs a variety of mediums—all designed to empower patients through an artful eye.
Combining the artistic and therapeutic process within a medical situation is also a sentiment shared by artist and fellow art therapist Tracy Councill who created the art therapy program for young cancer patients at Georgetown University Hospital's Lombardi Cancer Center, Washington, D.C. It was Councill's work there that helped to inspire another person, Matt Gerson—himself a cancer survivor—to found Tracy's Kids, a non-profit organization that helps young cancer patients and their families cope with the emotional stresses brought on by the disease through art therapy in a medical environment.
Tracy's Kids programs can now be found in eight hospitals and medical centers across the country with five in the Washington, D.C. area. The program now serves roughly 5,000 young cancer patients and families each year.
Ramsey herself comes out of Tracy's Kids. In her new capacity at HJF, she is working to develop an art therapy program that is being funded in part by HJF and now, Leonardo DRS. The two organizations have partnered for the past seven years on a variety of initiatives aimed at helping improve the lives of military families.
The art therapy program continues a tradition of helping patients see themselves as being more than the sum of their illness. It is a framework that carries the potential of being expanded into more hospitals, as well as clinics and treatment centers.
"At HJF, we would love to see professionals like Kristin in military treatment facilities across the country and to continue public-private partnerships like we have with Leonardo DRS," said Jackie Vandermeersch, HJF's director of public-private partnerships.
HJF is well-positioned to administer any broad-based program. The nonprofit organization, established to advance military medicine, manages more than 700 research grants, contracts, and cooperative agreements. Additionally, it supports a wide spectrum of national and international initiatives, serving as a kind of connective tissue between private industry and the military medical community.
Past collaborations with Leonardo DRS, a defense electronics firm with operations in Arlington, VA, have resulted in joint support for the "Look Good Feel Better" initiative, which helps active and retired military men, women, and family members affected by breast cancer manage the appearance-related side effects of treatment. Both HJF and Leonardo DRS participated in the national campaign through the Murtha Cancer Center at Walter Reed National Military Medical Center in Bethesda.
"They care about the military," said Vandermeersch of Leonardo DRS. "Not just the active duty member but also the families."
The Military and the Arts
The recent collaboration between HJF and Leonardo DRS reflects a larger, nationwide commitment to addressing the psychological needs of military service members through artistic endeavors. Another such program, called "Creative Focus: NEA Military Healing Arts Network," employs a variety of creative arts therapies designed to help strengthen the well-being of service members and veterans suffering from traumatic brain injury and post-traumatic stress disorder.
Clinical research findings indicate that military art therapy programs can help warfighters cope with difficult emotions such as grief, loss, and shame related to wartime, while helping stabilize emotions and improve one's tolerance for frustration.
Sponsored by the National Endowment for the Arts, in partnership with the Department of Defense and Veterans Affairs, the Healing Arts initiative, which began in 2011 at two military medical facilities in the Washington, D.C., area, has since expanded to sites nationwide, increasing access to therapeutic arts activities for military members, veterans, and their families in their local communities.
These programs are thriving, even as the coronavirus pandemic alters the mode of delivery for therapy programs nationwide. In a time reducing physical interaction, Ramsey is able to step in virtually and support patients on a regular basis, helping them feel less isolated in their hospital and homebound environments. Through long-distance delivery systems like telehealth, patients can stay involved in the creative process during and after their course of treatment as connection and creativity remain central to the program.
Whatever the changing tools of art therapy, a therapist's growing authority within the community of medical professionals is being furthered in part by ongoing board licensing and educational requirements established by the American Art Therapy Association and accredited by the Commission on the Accreditation of Allied Health Education programs, which certifies programs in 30 health science fields.
The net effect has art therapy programs increasingly being offered as a complement to standard medical practices, creating a platform of patient support on multi-tiered levels. "As a recognized and validated therapeutic intervention, art therapy is really starting to find its footing," said Ramsey.
Leonardo DRS announced that it will grant up to $10,000 in contributions to support programs for children of military families undergoing physical and emotional treatments.