Leonardo DRS Completes Merger, Goes Public
November 29, 2022
Arlington defense contractor now trading on Nasdaq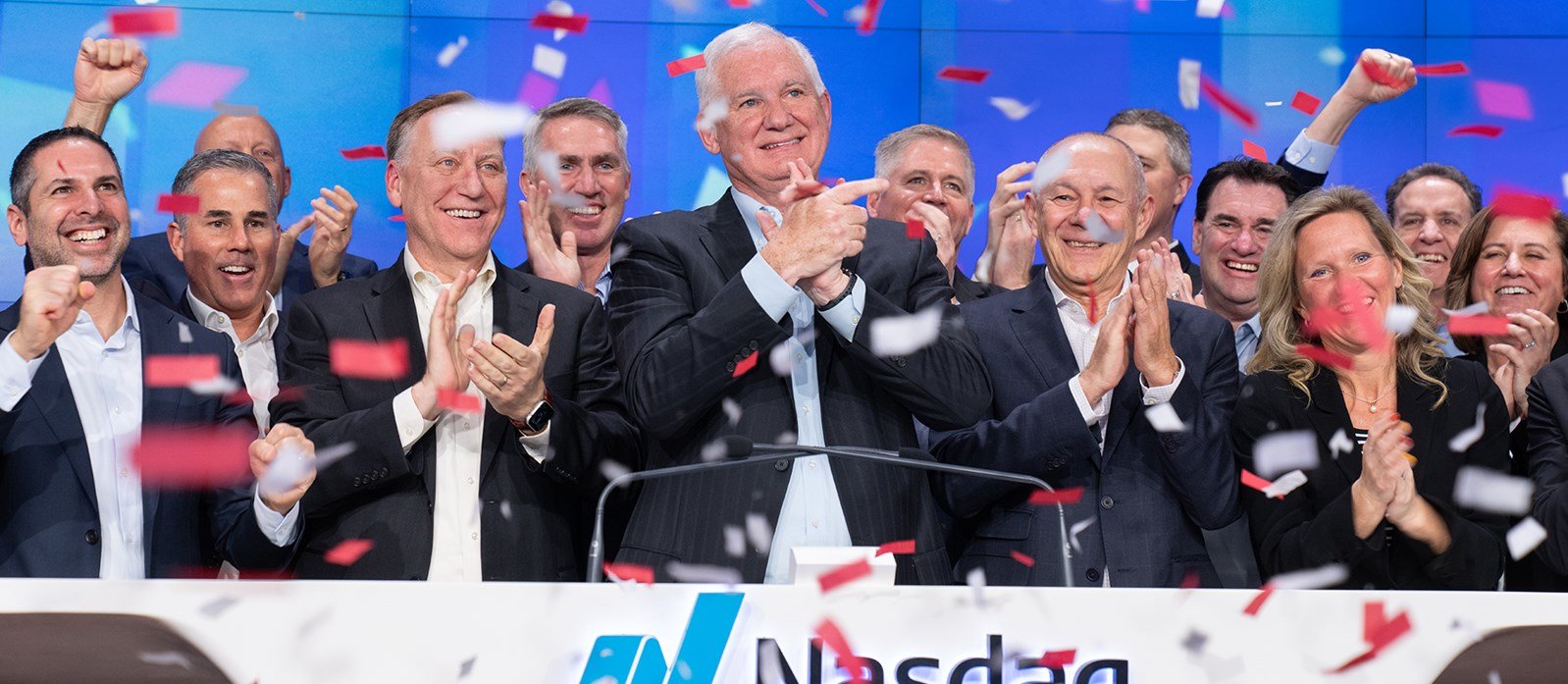 By Courtney Mabeus | Virginia Business
November 29, 2022 – WASHINGTON — Leonardo DRS Chair and CEO William J. Lynn III rings the closing bell at the Nasdaq Nov. 29. The Arlington-based defense contractor went public that morning, a day after completing a merger with Israel-based Rada Electronic Industries Ltd. Arlington-based defense contractor Leonardo DRS Inc. is now a public company.
The company began trading on the Nasdaq composite Tuesday morning, opening at $11.50, following the completion Monday of its all-stock merger with Israel-based Rada Electronic Industries Ltd. to form a $3 billion company. The companies announced their plans to merge in June. Under the agreement, Rada shareholders will retain 19.5% ownership of the company and Leonardo DRS' parent company, Italian defense contractor Leonardo SpA, will own the other 80.5%.
Leonardo DRS took over Rada's existing stock, converting it to the stock symbol "DRS" at the opening of trading Tuesday. The company will also be listed on the Tel Aviv Stock Exchange beginning Wednesday. Rada is now a wholly-owned subsidiary of Leonardo DRS, and will be known as DRS Rada Technologies, one of eight lines of business under the company.
Leonardo DRS Chairman and CEO William J. Lynn III told Virginia Business Tuesday after trading opened Tuesday that going public will give DRS "more operational independence, financial flexibility [and] more strategic bandwidth," allowing Leonardo DRS to approach mergers and acquisitions in "a bigger way," he added.
The merger also fills a strategic gap for Leonardo DRS, Lynn said, calling Rada a "best-in-class tactical radar company." Leonardo DRS has four core markets: force protection, advanced sensors, electric power and propulsion, and network computing. Adding radar to Leonardo DRS' broad portfolio of sensors strengthens the company's mid-tier defense position, particularly as it approaches more work in that area with the Army and Navy.
"As a mid-tier, we're not dependent on platforms. Most of the bigger [defense contractors] … are producing the ships, planes, tanks. We don't do that," said Lynn, who served as deputy secretary of defense from 2009 to 2011. "We do communications, we do electronics, we do sensors, so we're independent of platform choices. We're platform-agnostic. That's important [because it] means we can go different directions with different platforms. It also means we're ambidextrous between a new platform, or an upgrade of an old platform."
The merger follows Leonardo DRS' $450 million sale of its satellite communications subsidiary to Reston-based satellite telecommunications company SES Government Solutions in August as part of the company's plan to refocus its portfolio. In 2021, the company put the brakes on an initial public offering on the New York Stock Exchange, citing adverse market conditions.
Lynn rang Nasdaq's closing bell Tuesday.
---
Keep up with all the latest innovations, programs and partnerships from Leonardo DRS.