Leonardo DRS to Manufacture Hoverfly's Advanced Tethered UAS Products
October 13, 2020
Receives First Production Order for Company's LiveSky Tethered UAS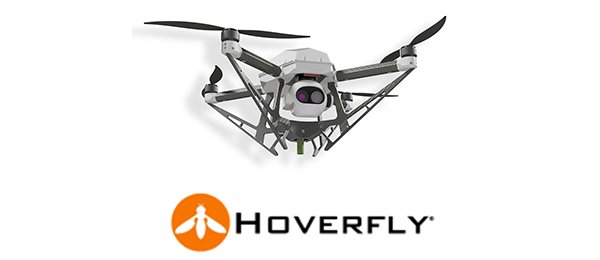 ARLINGTON, VA, OCTOBER 13, 2020 -Leonardo DRS, Inc. announced today that it has entered into a strategic partnership with Hoverfly Technologies Inc. (HTI) of Orlando, Florida to manufacture HTI's line of Tethered Unmanned Aerial Systems (TUAS). The Leonardo DRS Land Systems business in St. Louis, Missouri has since received its first order from Hoverfly valued at over $4 million.
Under terms of the agreement, Leonardo DRS will produce serial quantities of Hoverfly's LiveSky™ TUAS system in support of its growing customer base, which includes the U.S. Department of Defense, the Departments of Homeland Security and Energy, allied defense forces, global industrial companies, and other domestic and international customers. Leonardo DRS will also bring a wealth of platform integration and sensor payload development experience to Hoverfly's products under the strategic business partnership to provide customers with fully integrated, TUAS-based communications, detection, and electronic surveillance capabilities.
Tethered UAS technology like Hoverfly's LiveSky™ is revolutionizing the government and commercial markets for long-duration, small footprint aerial surveillance and long-range, secure communications. By enabling continuous power and high-bandwidth data through a thin tether link, LiveSky™ can remain on-station in the air almost indefinitely, providing surveillance, targeting, and communications relay functions, while stationary or on-the-move, from vehicles or vessels. Multiple US and allied government programs have recognized Hoverfly's technology and are now incorporating TUAS capabilities in their requirements.
"As an innovative defense contractor, we strive to quickly identify and provide our customers with cutting edge technologies to give our warfighters the edge on the battlefield," said Aaron Hankins, senior vice president and general manager of the Leonardo DRS Land Systems business. "We recognized Hoverfly as the leading tethered UAS technology company, and now we can help Hoverfly scale this capability across a wide and growing market. This benefits our joint customers by providing accelerated yet reliable production to meet their always-challenging acquisition timelines and fielding schedules."
Hoverfly CEO Robert Topping added, "We are thrilled to have Leonardo DRS as our production partner. Rather than scaling capacity internally, now Hoverfly and our customers can rely on Leonardo DRS's proven production quality and its exceptional level of experience in integrating complex systems across a wide variety of platforms and mission systems."
About Leonardo DRS
Leonardo DRS is a prime contractor, leading technology innovator and supplier of integrated products, services and support to military forces, intelligence agencies and defense contractors worldwide. Its Land Systems business unit is a recognized leader in the design and integration of complex technologies into new and legacy systems and platforms for global military and commercial customers. Headquartered in Arlington, Virginia, Leonardo DRS is a wholly owned subsidiary of Leonardo S.p.A. See the full range of capabilities at www.LeonardoDRS.com and on Twitter @LeonardoDRSnews.
About Hoverfly Technologies Inc.
Hoverfly Technologies is the leader in tethered UAS (TUAS) products for operations in complex Non-GPS environments with fixed, portable, or mobile mission configurations that can remain airborne for hundreds of hours. The LiveSkyTM series of TUAS is a low-cost, persistent intelligence, surveillance, reconnaissance, and communications relay platform that is in use by defense, security, public safety, and industrial users around the world. See www.hoverflytech.com for more information.