Homes For Our Troops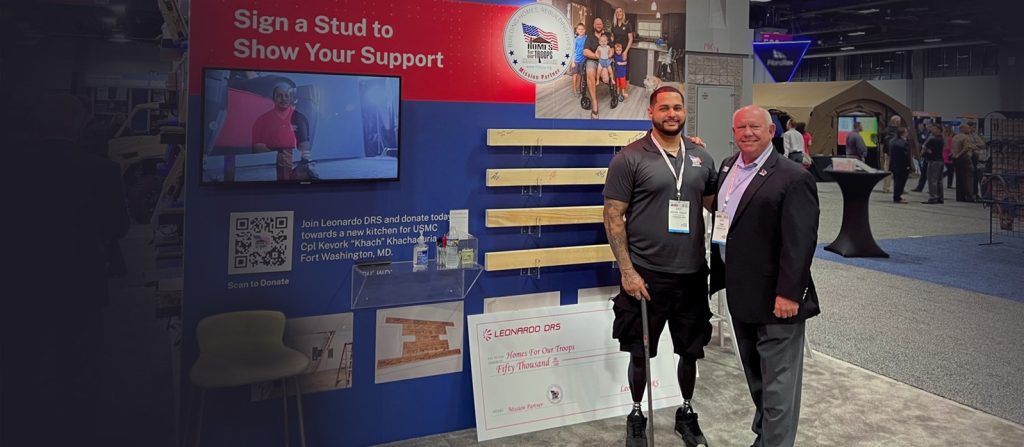 Leonardo DRS Pledges Support to Homes For Our Troops During Modern Day Marine 2023
Leonardo DRS is pledging its support to Homes For Our Troops (HFOT) in the organization's mission to build and donate custom, specially adapted homes for severely injured post-9/11 veterans.
Leonardo DRS is proud to be named the exclusive build event sponsor for two home builds taking place in 2023 – one in Muskego, Wis. beginning in June and the other in Ramona, Calif. beginning in October.
Homes For Our Troops (HFOT) is a publicly funded 501(c) (3) nonprofit organization that builds and donates specially adapted custom homes nationwide for severely injured post-9/11 Veterans, to enable them to rebuild their lives. Most of these Veterans have sustained injuries including multiple limb amputations, partial or full paralysis, and/or severe traumatic brain injury (TBI). These homes restore some of the freedom and independence our Veterans sacrificed while defending our country, and enable them to focus on their family, recovery, and rebuilding their lives. Since its inception in 2004, nearly 90 cents out of every dollar spent has gone directly to our program services for Veterans. HFOT builds these homes where the Veteran chooses to live, and continues its relationship with the Veterans after home delivery to assist them with rebuilding their lives.
Our Sponsored Families
Growing up, Kevork "Khach" Khachadurian always wanted to be a police officer. After the 9/11 attacks his aspirations shifted to becoming a U.S. Marine instead. He joined shortly after high school, going on tours to Cuba and Bahrain before deploying to Afghanistan in 2011.
On Aug. 15, 2011, Corporal Khachadurian was on a three-day mission as an Infantry rifleman with the 1st Battalion, 5th Marines, in Sangin, Afghanistan, when he stepped on an improvised explosive device (IED). He immediately lost both legs in the blast, along with several fingers on his left hand and severe damage to his left forearm.
Cpl Khachadurian never lost consciousness as his fellow Marines quickly evacuated him. He arrived in the United States at Walter Reed Medical Center a few days later, where he underwent countless surgeries. Three months after his injury, Cpl Khachadurian started physical therapy and began walking on prosthetics.
After medically retiring in June 2013, Khach landed a job with the VA. He started out as a program support assistant, and is now a Veterans support representative. He enjoys the role as it allows him to work closely with the comrades he fought alongside. "I love that even though I can't go back out there and fight with them, I'm still able to help by making sure my fellow Veterans and Service members get the benefits they deserve," he says.
Once he receives his specially adapted custom Homes For Our Troops home, Khach believes he will be able to rest more and have more energy to put into furthering his career and helping other Veterans. He currently lives in a one bedroom apartment and prefers to use his wheelchair while at home. The space is narrow, making it difficult to navigate the hallways. In the open layout of an HFOT home, all appliances, cabinets, and shelves will be within Khach's reach. The extra space will give Khach room to expand his interests. He has a passion for music and DJ-ing, and would love to create a music studio in his home.
Khach has also become an avid athlete in the years since his injury. He plays sitting volleyball and is on the USA Warriors Sled Hockey team.
Originally from Florida, Khach has developed a community of friends in the Washington D.C. area during his time at Walter Reed, and is choosing to remain there and build his home in Maryland.
Khach says this home will be the foundation for the rest of his life, and he is incredibly grateful to HFOT's donors and supporters. "Living with a disability can be really stressful at times, but coming home to an HFOT home will take all the stress away," he says.
Donate to the Khachadurian project
On April 24, 2007, Marine Lance Corporal Robert "Bobby" McCardle, an Infantryman, was on his second deployment serving with the 1st Battalion, 4th Marines, in Al-Qaim, Iraq, when his vehicle was hit by an improvised explosive device (IED). The blast resulted in the loss of his right leg, internal injuries, and a traumatic brain injury (TBI).
Once back in the United States, Bobby underwent more than 40 surgeries at Balboa Medical Center in San Diego. His wife Stephanie remained at his side the entire time. Bobby says it is her strength that guided him through his recovery.
Now medically retired, Bobby and Stephanie have two children, a daughter Taylor and son Chase. Bobby tries not to let his injuries prevent him from being the best dad he can be, although this is difficult because he still experiences challenges within his home. Showering poses a safety risk since he has to balance on one leg. Receiving a specially adapted custom Homes For Our Troops home with a roll-in shower will eliminate this issue. Additionally, regaining his freedom and independence in an HFOT home will empower Bobby to plan a career and do more volunteer work. He currently coaches his daughter's softball team, teaches church classes on Sunday, and plays on the Wounded Warrior Amputee Softball Team. "I can guarantee when I receive this home I will be finding many more opportunities to serve my community," he says.
Originally from Wisconsin, Bobby is choosing to remain in state and build his home there.
Bobby says organizations like Homes For Our Troops make him proud to have served this country. "Veterans were asked to take care of this nation and in return for their sacrifice, the American people are taking care of those Veterans," he says. "Homes For Our Troops grants us the ability to dream again."
Joshua Hooker joined the Army in 2003 right after high school, because he felt it was his turn to serve the mission in Iraq. He enlisted as a cavalry scout with the 101st Airborne Division, and first deployed to Iraq in 2005.
On April 29, 2006, Sergeant Hooker was on a patrol in Baghdad when he was hit by an improvised explosive device (IED). He sustained severe damage to both legs in the blast, resulting in the eventual amputation of his left leg.
Now medically retired, Joshua and his wife Tiana are busy raising their three children and running their own business, providing cleaning services to military families. In his spare time, Joshua is an avid cyclist; he says the sport helps with his recovery both physically and mentally. Joshua also enjoys volunteering and supporting his community. He is a sponsored athlete with the Challenged Athletes Foundation, is a member of the Purple Heart Foundation, and is a mentor for the Amputee Coalition of America. Receiving a specially adapted custom Homes For Our Troops home will allow him to expand on his endeavors. Above all, the financial freedom of the home will give Tiana and him the stability to save and plan for their children's future. "To be able to help them grow in their education and talents would be an amazing blessing," he says.
In his current home, Joshua cannot access his children's rooms while in his wheelchair. Daily tasks, like cooking and getting ready in the morning, are a challenge for him because the hallways and doorways are too narrow. An HFOT home with an open floor plan and a kitchen with lower countertops and roll under sinks will make it easier for Josh to prepare meals and care for his children.
Originally from Sacramento, Joshua is choosing to remain in the state and build his home in Southern California to be near family.
Joshua wants HFOT's donors and supporters to know their generosity will give him and his family a future. "Your gift is more than just a home, it is also the gift of precious time with family that I will treasure for a lifetime," he says.
Ways to Donate to Injured Veterans
Homes For Our Troops exists to restore the gift of freedom and independence to our nation's most severely injured Veterans through the gift of a specially adapted home.
By the Numbers
Here is a look at the different ways the Homes For Our Troops program sets the conditions for our Veterans' and their families' lifelong success.