Leonardo DRS Pledges Support to the National Veterans Foundation
Leonardo DRS is pledging its support to the National Veterans Foundation and their mission to serve the crisis management, information and referral needs of all U.S. Veterans and their families through: management and operation of the nation's first Vet-to-Vet toll-free helpline for all Veterans and their families.
About This Organization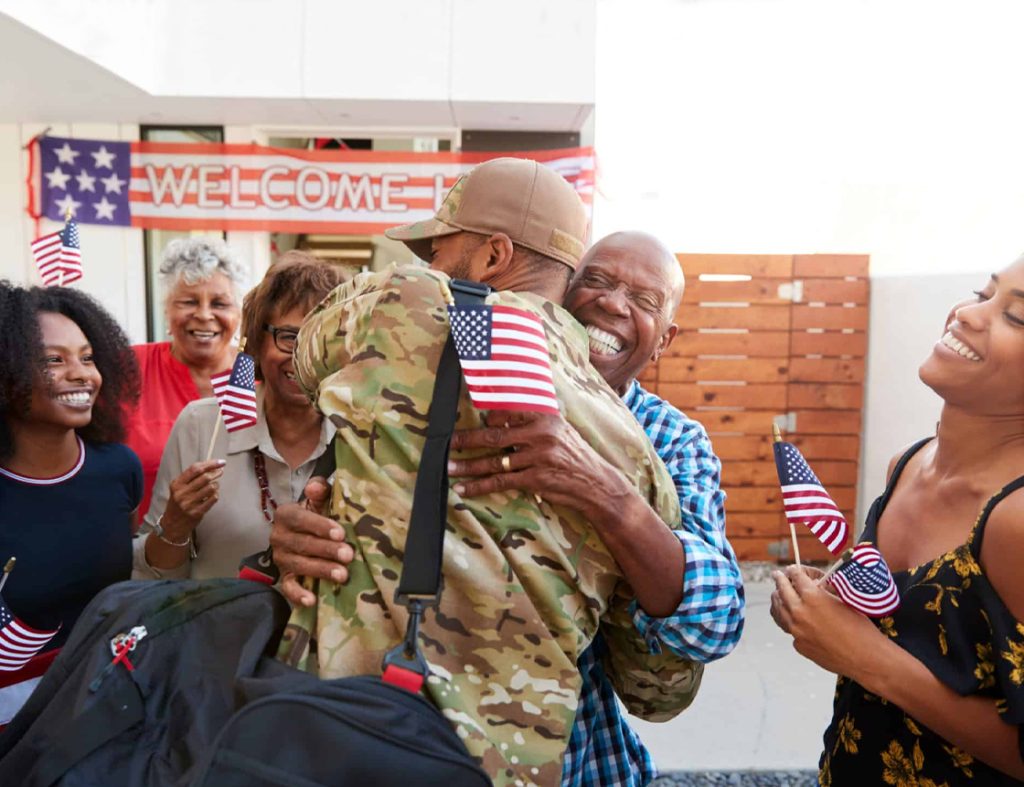 Thirty-five years. That's how long the National Veterans Foundation has been around. The National Veteran's Foundation was established in 1985 by Floyd "Shad" Meshad, but back then it was known as the Vietnam Veterans Aid Foundation. This foundation was created for the purpose of helping Vietnam veterans and their families by giving them a place where they could receive benefits information, resource referral, and crisis counseling via a toll-free helpline. It was in 1992 when the Vietnam Veterans Aid Foundation became the National Veterans Foundation and turned to aiding all veterans and their families.
Meshad has been working with veterans since the 1970's. He graduated from Florida State University with a master's in psychology and then became a Medical Service Officer during the Vietnam War. That was where he helped soldiers struggling with psychological and emotional hardships from their experiences in combat. It was after the Vietnam War that Meshad decided to continue counseling Vietnam Veterans by founding and working with the Veterans Administration in Los Angeles. Meshad was one of the first to study, what is now known as, Post-Traumatic Stress Disorder, which aided in his understanding of veteran's experiences and in his ability to help them. Shortly after the Los Angeles foundation was created, Meshad founded the National Veterans Foundation. Currently, Meshad continues to aid returning veterans in the Los Angeles area and teaches stress reduction and anger management techniques to mental health, law enforcement and critical incident professionals through Quantum Performance Institute, a firm he established in 2001.
The National Veterans Foundation not only aids returning veterans, but homeless veterans as well. There are around 50,000 homeless veterans on any given night and 7% of Iraq and Afghanistan Veterans can account for the unemployment rate amongst veterans. Aiding homeless and unemployed veterans is an important aspect of this foundation. The Veterans job Board of this foundation provides many resources. There is a Veterans Resume Guide available for download and open job listings that mention the state as well as the closing date for the application. Without these resources readily available, there would no doubt be more displaced veterans and one less way for them to get back on their feet. The foundation also provides a hotline for veterans that can speak with other veterans. They are allowed to talk about anything with the veterans that work there, ranging from physical/mental health to food and shelter.
Over the course of the last thirty-five years over 450,000 soldiers and their families have been helped by the National Veterans Foundation. This foundation was a turning point for veterans, in the way they could receive help from others that understand what they are going through. Meshad has created a way for veterans to not only receive help but has spread awareness about veterans and the acclimation process once they return home, whether it is permanent or only for a short period of time before they are deployed again. The National Veterans Foundation is open to helping all that seek assistance and will continue this work for as long as possible. Donate now at https://nvf.org/veterans-donations/ to support this foundation and enable them to spread awareness about the work they do, so others may receive the help they deserve. In order to find out more information about the National Veterans Foundation, watch their informational video here.
Lifeline for Vets

The National Veterans Foundation's (NVF) Lifeline for Vets helps Veterans of all eras, their family members and active duty service members, some while serving overseas in combat deployments. The Lifeline for Vets assists Veterans with needs including medical treatment, PTSD counseling, VA benefits advocacy, food, shelter, employment, training, legal aid, suicide intervention and more.
The need for the National Veterans Foundation's services has never been greater.
More than 2.5 million Americans have served in the wars in Iraq and Afghanistan.
Estimates are that 1 out of every 5 Iraq and Afghanistan Veterans suffers from Traumatic Brain Injury, Post Traumatic Stress or major depression.
About 7% of Iraq and Afghanistan Veterans are unemployed.
An estimated 50,000 Veterans are homeless on any given night.
22 Veterans a day, men and women, commit suicide.
The Lifeline for Vets provides a unique and much-needed service for these Veterans, because:
It is non-governmental.
It provides a proven Vet-to-Vet service model.
It gives Veterans a referral source that provides local and national, situation-appropriate solutions for a host of problems Veterans face.
Vet-to-Vet Works
The Vet-to-Vet service model has proved effective since the VA's Vet Center outreach program was started in 1979. (The Vet Center program was developed during the Carter Administration for the Veterans Administration by NVF Founder Shad Meshad, and continues to be one of the VA's most effective Veteran service programs.) Unfortunately, Vet Centers are not available in every community and many Veterans are not aware of them. Veterans who are seeking help often want to talk to someone who has been there and understands. Especially when it comes to mental health issues and suicide prevention, having another combat Vet on the phone improves the chances of receiving the help that is being offered.
The Lifeline for Vets is an "Everything Vets" database. Lifeline for Vets counselors have at their fingertips one of the most comprehensive databases in existence of local, national, community-based, and government resources. Veterans can call the Lifeline for Vets and receive help with financial problems, mental health issues, receiving their VA benefits and healthcare, employment, housing, family counseling and many other issues.
The goal of the Lifeline for Vets counselors is to provide an appropriate solution for the Veteran who is calling the hotline. This solution could be as simple as finding the closest VA facility, or as complicated as connecting them with a number of local resources to assist with a financial, legal or medical/psychological problem they may be having. Our counselors try to follow up with every Veteran who calls the hotline to see if the solution provided worked, or if additional resources need to be provided. For example, a Veteran who calls for a VA facility may find he or she needs transportation help after the initial call, or a counselor's help completing VA paperwork.
The Lifeline for Vets leads to sustained improvement in the lives of Veterans, military members and their families by providing real solutions to the problems they face after leaving the military and readjusting to civilian life.
Donate to the National Veterans Foundation
Your donation will help save a life. It enables the equipment, counselors, training, and programs to help veterans on the brink.
Lifeline for Veterans
1-888-777-4443
The NVF and the Lifeline for Vets™ have helped countless American heroes — person-to-person, Veteran-to-Veteran.