Innovation in a Counter UAS Capability
SPEAR provides a portable, compact, and deployable High Power Electromagnetic (HPEM) source as a directed energy weapon against individual and swarm drone threats. The innovative system was designed as an intentional, single-pulse to repetition rate, high-power electromagnetic radiator. Due to its portable size, low weight, low power requirements, and effectivity, SPEAR provides Counter small Unmanned Aircraft System (C-sUAS) capabilities to ground vehicles, fixed platforms, and field troops.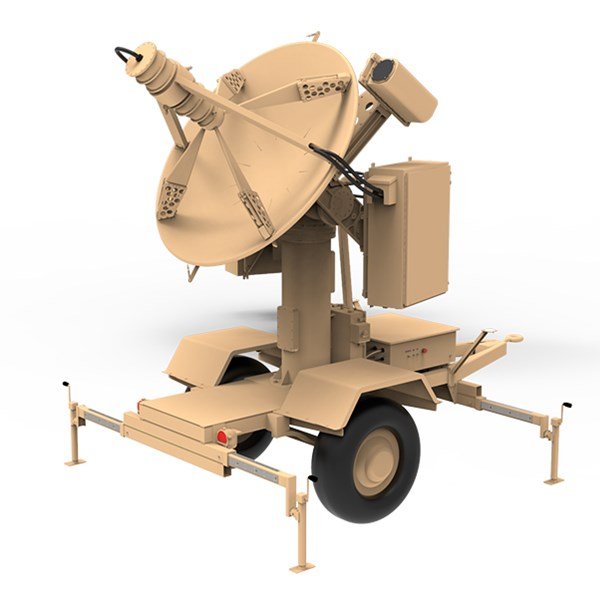 Key Design Advantages
High effectivity; low SWaP
Low-cost system with ~1M magazine depth with low cost per shot; minimal logistics support needed
Ultrawide bandwidth permits engagement of targets without prior knowledge of specific vulnerabilities
Ability to disrupt and destroy targets with both front-and-back-door coupling
Counter heterogeneous sUAS swarms simultaneously without prior knowledge of threat type
Defeat ranges beyond distances associated with Intelligence, Surveillance, and Reconnaissance (ISR) / Reconnaissance, Surveillance, and Target Acquisition (RSTA) type UAS swarm attack distances
System electromagnetically couples with heterogeneous target systems regardless of size
Independent of threat orientation due to simultaneous horizontal and vertical polarization
Rapid deployment; instantaneous effectivity
Easily transportable, set-up/power-up in seconds to minutes
Why SPEAR?
Effectivity on vulnerable targets is virtually instantaneous
Wide bandwidth permits engagement of targets without prior knowledge of specific vulnerabilities
Able to counter multiple types/platforms of swarm sUAS simultaneously
Ability to disrupt and destroy targets with both front-and-back-door coupling
Effective at countering ISR / RSTA type UAS threats at ranges well beyond those associated with attacking sUAS swarms
Innovative technologies have reduced system SWaP supporting integration on vehicle playforms, small pull-behind trailers, or for use by dismounted troops
Contributes critical niche advantages to a layered defense approach
Related News
Contact
Airborne & Intelligence Systems
Mission Support 645 Anchors Street Fort
Walton Beach, FL 32548
For any further information