At Leonardo DRS, we believe that a diverse, equitable, and inclusive environment makes us a stronger Company. In order to achieve this, we have a formal program with an established vision, mission, goals, and actions.
Mission
Our mission is to promote awareness, empower, and educate our employees on the importance of a diverse and inclusive work environment.
In pursuit of the company's diversity, equity, and inclusion mission, we have established the following goals:
Cultivate a diverse, equitable, and inclusive environment that encourages collaboration, flexibility, and fairness to enable all employees to contribute to their full potential.
Promote diversity in our succession planning and talent management processes, and employee development programs.
Increase the number of qualified, diverse candidates through our external recruiting efforts to enhance our future workforce.
A Diverse Workforce

A few of our results since establishing a formal program have included a steady increase in our diversity hires and promotions, and an increase of our diversity in management level positions. Our recruiting teams have increased our visibility in minority, women, military, and veteran-based publications and websites, as well as at recruiting events and colleges, universities, and technical schools. We have expanded our student internship and co-op programs. We ensure that our diverse employees are provided with opportunities to participate in our learning, development, and mentorship programs. As part of succession planning, we have identified diverse employees as successor candidates, high potential and emerging high potential employees. Under corporate leadership, we have established a Diversity Advisory Group to champion and recommend ideas to promote diversity and inclusion within the company. To complement the Diversity Advisory Group, we have established diversity actions teams at our facilities to further the vision, mission and goals of the program.
We are committed to hiring a more diverse workforce to resemble our communities and customers; fostering an environment that enables all employees to be part of a team, where they belong, feel valued, and cooperate together as a diverse workforce to achieve our business goals and objectives.
The table below presents our Board diversity statistics as of November 29, 2023.
Board Diversity Matrix
Board Size:
Total Number of Directors
9
Female
Male
Gender:
Directors
3
6
Number of Directors who identify in Any of the Categories Below:
African American or Black
–
1
Alaskan Native or Native American
–
–
Asian (other than South Asian)
–
–
South Asian
–
–
Hispanic or Latinx
–
–
Native Hawaiian or Pacific Islander
–
–
White
3
4
Two or More Races or Ethnicities
–
–
LGBTQ+
–
Did not Disclose Demographic Background
1
Employee Resource Groups
Leonardo DRS' Employee Resource Groups (ERG) are voluntary, employee-led groups that create opportunities for employees to meet collaborate, network and exchange ideas with people who share similar interest, background, orientation, or culture. Employee Resource Groups build a more inclusive environment and approach inclusion and diversity in an employee community-based way.
The goal is to foster a diverse, inclusive workplace aligned with the company's core values and principles of Integrity, Agility, Excellence, Customer Focus, Innovation and Diversity, Equity & Inclusion.
Gender-Equality Index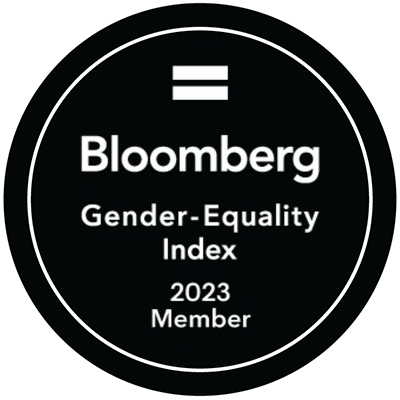 Leonardo for the third year in a row has been included in the Bloomberg Gender-Equality Index (GEI), a market capitalization-weighted index assessing the performance of listed companies in reporting gender-related data. The assessment is based on five pillars: leadership & talent pipeline, equal pay & gender pay parity, inclusive culture, anti-sexual harassment policies and pro-women brand. The GEI 2023 is composed of 484 companies operating in 45 countries and 11 different sectors with a total market capitalization of US$ 16 trillion.