Leonardo DRS Assured Positioning, Navigation, and Timing (A-PNT)
January 4, 2022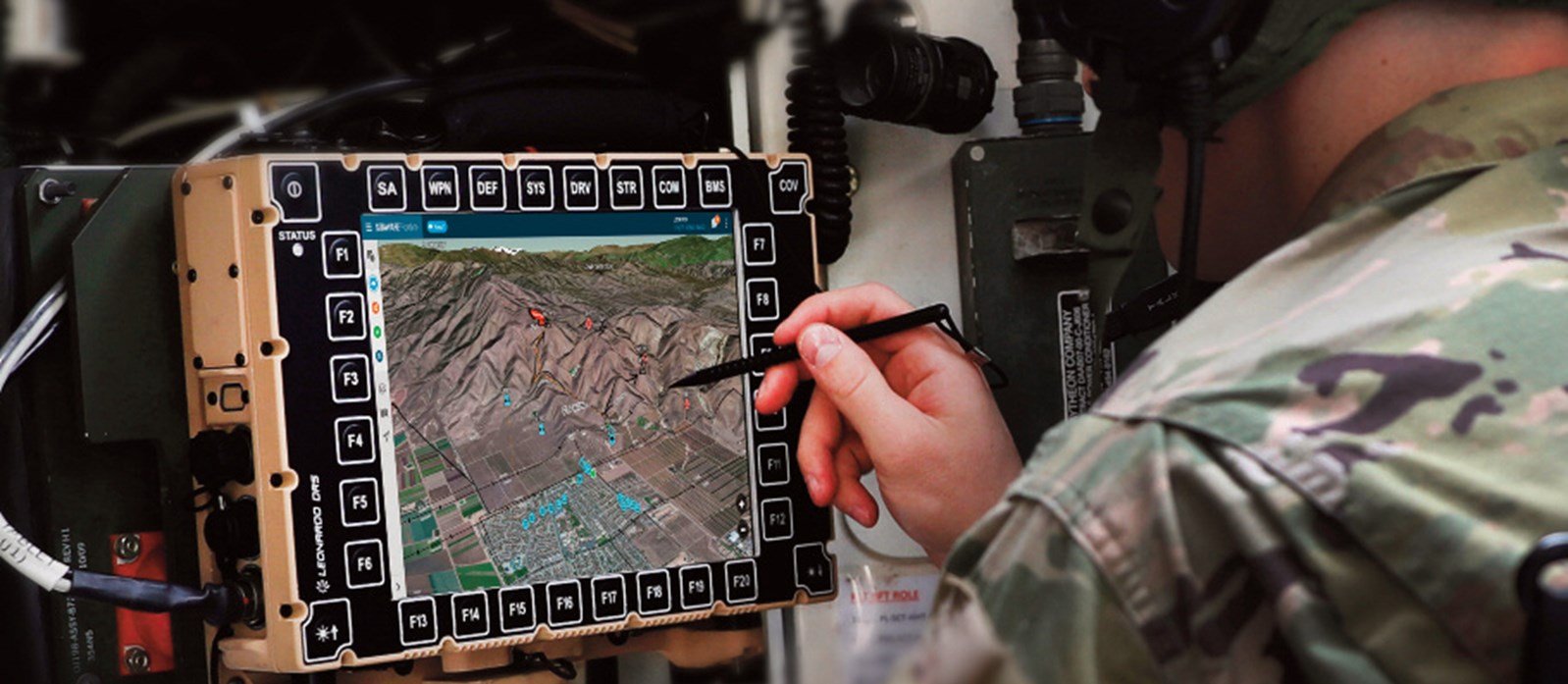 Leonardo DRS Assured Positioning, Navigation, and Timing
By Leonardo DRS Land Electronics, December 2021
U.S. military positioning technology relies heavily on Global Positioning System (GPS). Yet, in recent years, jamming, spoofing and other forms of interference have grown in frequency and severity. This creates risks for military forces when encountering technologies that degrade the GPS capability on combat vehicles. The solution to this challenge is Assured Positioning, Navigation, and Timing (A-PNT) – a way to provide accurate position, navigation and timing (PNT) information at all times under all conditions. Given this threat, Combatant Commanders are requesting alternate PNT systems to GPS for their maneuver formations.
Leonardo DRS developed a modified TRL-9 production Data Distribution Unit computer (DDUx II) with embedded A-PNT capabilities to provide a reliable and accurate mounted navigation and timing solution in GPS threatened environments. The embedded technologies enabling the company's A-PNT solution possible are collectively titled Assured Positioning, Navigation and Timing Converged Computer Embedded & Scalable or AC²ES. AC²ES is a fully modular and scalable A-PNT option allowing the mounted ground vehicle fleet to leverage its existing investment in computing and display hardware, and bridge the gap to CMOSS Mounted Form Factor (CMFF) with an affordable, scalable upgrade. The DDUx II PU contains a powerful quadcore Xeon Intel processor, which can host a variety of CMFF A-PNT applications, including Vision Navigation and pntOS. AC²ES is a solution to Global Positioning System (GPS) disruption designed to provide A-PNT information at all times. Developed with Size, Weight, Power and Cost (SWAP-C) efficiency in mind, AC²ES is embedded in our widely used Data Distribution Unit – Expandable (DDUx II) Processor Unit (PU). The DDUx II and military variants are currently fielded in the U.S. Army and U.S. Marine Corps. The AC²ES capability is easily implemented without additional space or weight requirements. The DDUx II also allows for integration of A-PNT functionality with the Battle Management System (BMS) in a currently fielded Line Replaceable Unit (LRU). The DDUx II PU is the ideal source of A-PNT not only because it is a critical user of PNT, but also because it can provide A-PNT distribution to all other devices needing PNT within the vehicle without adding any additional SWAP.
The vehicle operator uses the BMS's Graphical User Interface (GUI) on the Multi-function Rugged 12.1" display to view and manage Mission Command functions, GPS, and A-PNT functions on a single pane of glass, including distribution to all vehicle PNT users. AC²ES provides A-PNT capability by augmenting standard military GPS PNT sources with technologies such as anti-jam, anti-spoof, M-code receivers, additional RF sources, vehicle Infra-Red (IR) sensor vision navigation, wheel rotation and inertial measurement units (IMUs). The fusion engine merges and prioritizes all PNT sensor data to provide a reliable, GPS denied navigation solution during real world jamming and spoofing attacks. The AC²ES capability operates standalone, or while hosting the vehicle's BMS and is controlled via its GUI.
In the modern battlefield, it is equally important to know accurate "time" as it is to know your position. If timing information from the GPS is unavailable or cannot be trusted, it is critical to have access to other sources for execution of the mission. AC²ES offers a choice of multiple timing holdup modules that increase accuracy proportionately with cost. AC²ES offers a unique benefit to Platform Integrators since they are able to select the accuracy level needed for their mission purpose and avoid paying unnecessary costs for higher capability levels. Designed with extensibility and future growth in mind, Customers are able to tailor their system configuration based on the military units mission profile, operational needs, and budget. This ability to tailor the configuration offers different tiers of AC²ES capabilities throughout the echelons of the modern fighting force. All Warfighters now have access to resilient A-PNT capabilities that integrates with existing Leonardo DRS tactical computing systems. As the enemy adapts, AC²ES provides the fighting force with the system flexibility to conduct modular upgrades, facilitating precision mission execution. This new A-PNT system is comprised of embedded RF components (M-code GPS, Other RF Receivers), and an internal microelectromechanical systems (MEMS) grade Inertial Measurement Unit (IMU) with Magnetometer, vehicle odometry input signal, and an internal GPS trained Chip Scale Atomic Clock (CSAC) for precision timing holdup during RF outages. This cutting-edge technology has already been selected by Military & Aerospace Electronics as a Gold level honoree in their Innovators Awards category. The Gold award recognizes an excellent innovation that makes a substantial improvement over previous methods employed, approaches taken, or products/systems used. To learn more about AC²ES, please visit LeonardoDRS.com/A-PNT.