The Family of Weapons Sights program is a US Army thermal weapon sight program designed to provide thermal capabilities for multiple weapons systems throughout the force. This Family of Weapon Sights consists of the FWS-Individual, FWS-CS, and FWS-Sniper thermal weapon sights.
Family of Weapon Sights-Individual (FWS-I)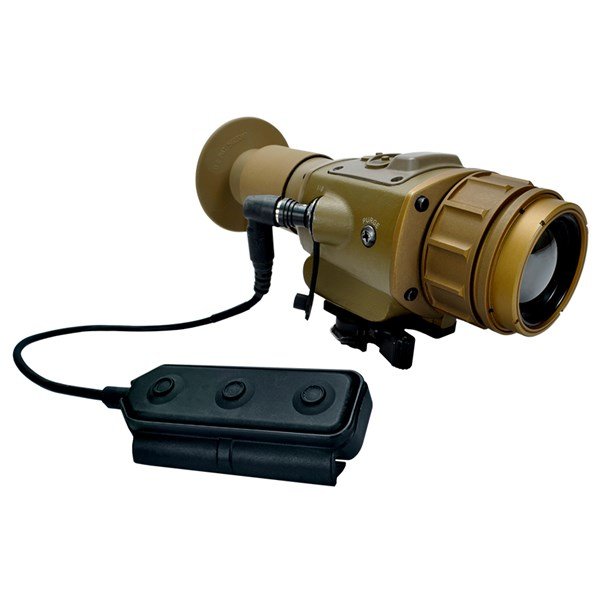 The Family of Weapon Sights-Individual is an advanced Clip-On infrared weapon sight, based on Leonardo DRS' field-proven thermal sensor technology. The FWS-I combines rugged, lightweight, modular construction with superior thermal imaging technology to give today's Warfighter the capability to maintain uncompromising performance in day or night and in smoke or fog, significantly increasing survivability and decisive operations on the battlefield. The Rapid Target Acquisition (RTA) capability enables rapid offensive targeting during Close Quarters Battle (CQB), in all battlefield conditions, by reducing target acquisition and engagement timelines, without the use of active lasers.
At the core of the FWS-I lies decades of experience in the uncooled infrared (IR) weapon systems field. The sight employs a proprietary high sensitivity vanadium oxide (VOx) focal plane array (FPA). The IR FPA requires no visible light to operate and will not shut down or create glare when exposed to direct light. The FWS-I operates silently and emits minimal heat and radio frequency (RF) energy, ideal for undetected reconnaissance.
Complete with 1x to 3x magnification, the modular FWS-I night vision system can be configured for use as a stand-alone sight or in an In-Line capability when used with a with a Day View Optic (DVO) on a wide variety of qualified weapons. It is uniquely designed as a cost effective, high-performance, and portable solution.
The Clip-On functionality eliminates the need for re-bore sighting as the DVO accuracy is undisturbed. Also, the FWS-I design allows the sight to be used as a stand-alone thermal weapon sight without a DVO or as a hand-held thermal imager.
Family of Weapon Sights – Crew Served (FWS-CS)
Rapidly Engage Targets in All Battlefield Conditions
Increasing Warfighter survivability in various operational conditions is just one of the features of the new infrared weapon sight from Leonardo DRS' Electro-Optical Infrared Systems business unit.
The Family of Weapon Sights Crew Served (FWS-CS) integrates with the M2 .50 caliber machine gun, MK19 Grenade Launcher, and the M240B machine gun. It wirelessly communicates with a Helmet Mounted Display (HMD) allowing Soldiers to receive the imagery from the sight while remaining behind protection.
The FWS-CS contains a long-wave infrared imaging sensor along with a Color Day Imager (CDI), a Laser Range Finder (LRF), and a Ballistic Computer Calculator (BCC). The Weapon Sight displays a static reticle for all weapons and their ammunition. All images displayed within the weapon sight can be displayed to the user within the HMD. When using either the CDI or Thermal Channel, the operator can fire the LRF on a target and the FWS-CS will provide the range to target and display a disturbed reticle for aimpoint to increase the probability of a first burst on target.
Enhanced target engagement provides a significant advantage for Soldiers. This advanced technology enables Soldiers to acquire and engage targets more rapidly while providing increased accuracy resulting in first-burst impacts on target. This capability ensures Soldiers are equipped with the best sensors and targeting devices to dominate the battlefield through lethality and situational awareness in all operational environments.
Related News
Contact
Daniel Pettry
Electro-Optical & Infrared Systems
For any further information