Embedded Diagnostics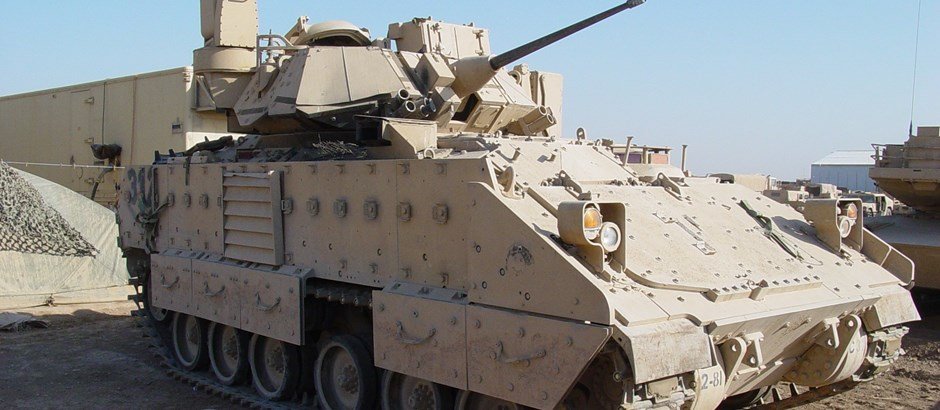 Provides Continuous Vehicle Health Checks and Crew Level Vehicle Condition Status
Leonardo DRS is an industry leader in the design and integration of embedded diagnostics into individual LRUs and combat vehicle platforms. These comprehensive capabilities create a seamless path to collecting and processing data on LRU and vehicle health.
Factory & Depot Testers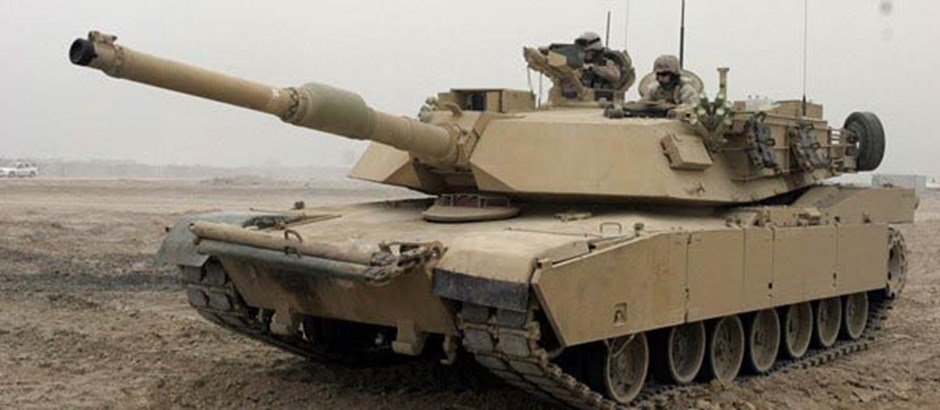 Quality and reliability start during production
Leonardo DRS' line of Factory and Depot testers provide test protocols to make sure combat vehicle components are fully functional and meet all performance and environmental requirements. Whether it's turn-key production test equipment or services that utilize our extensive environmental test capabilities, Leonardo DRS has the right tools to ensure Warfighter equipment performs flawlessly.
Off-Platform Test & Diagnostics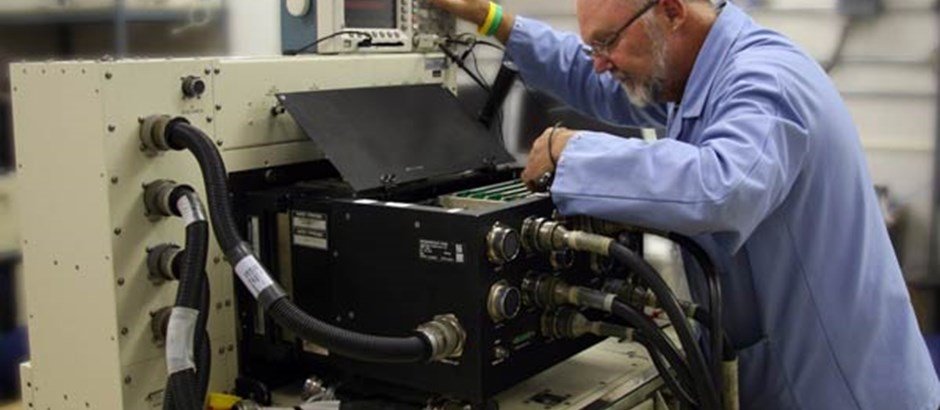 Field-Proven Solutions for Testing Today's and Tomorrow's Complex
Military Platforms and Components
Reducing life-cycle support costs frees resources to focus on the tactical mission. Leonardo DRS' off-platform diagnostics tools bring advanced diagnostic capabilities to the military's organic support organizations. With these tools, our maintainers repair components at the front lines, reduce reliance on depots and OEMs, lower costs, and increase availability.
On-Platform Test & Diagnostics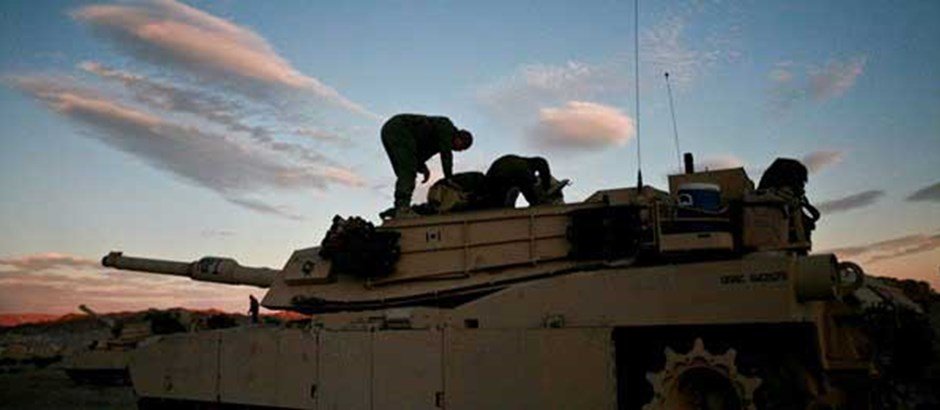 Diagnostic and Data Acquisition Systems for Domestic and Foreign Combat Vehicles
Our Warfighters depend on reliable combat and tactical vehicles. Leonardo DRS' on-platform diagnostics and vehicle health management solutions provide the Warfighter and maintainer with the tools to quickly diagnose and repair the vehicle enabling it to return to the fight.
Products & Services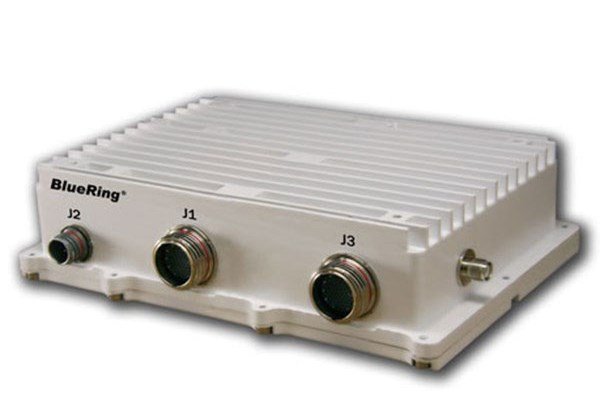 BlueRing® Data Acquisition System
Leonardo DRS is a recognized leader in the Condition Based Maintenance (CBM) and Vehicle Health Management System (VHMS) markets.
Leonardo DRS adds to the CBM/VHMS product line the BlueRing® Data Acquisition Controller, which is an off-the-shelf product line developed to meet the data acquisition, processing, storage and diagnostics needs of a broad array of DoD CBM+ and VHMS initiatives.
The BlueRing® family of products build upon the data acquisition, collection, processing, and storage capabilities of other Leonardo DRS products and adds a multitude of additional data acquisition resources. This comprehensive set of capabilities provides a seamless growth path for VHMS data acquisition at a lower cost, SWaP, and power consumption.
The BlueRing® product family consists of a stand-alone Line Replaceable Unit (LRU) version and a VME circuit card assembly version. All product variants use the same architecture and common board support packages, which allows it to support cross-platform applications. Designed to grow and adapt to current and future needs, the BlueRing® offers the flexibility needed for CBM and VHMS on the modern battlefield.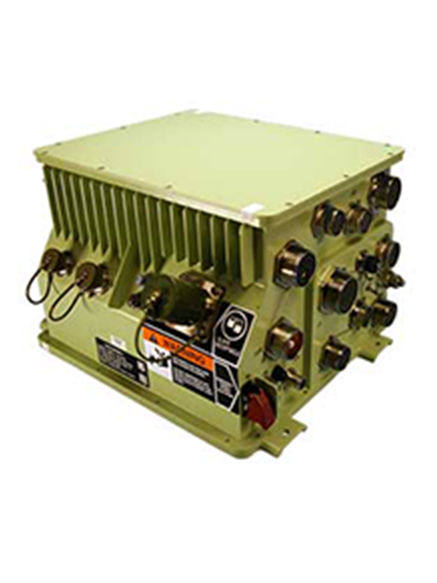 Digital Vehicle Distribution Box (DVDB)
Embedded Diagnostics System
Leonardo DRS LRUs have the technology to collect, digitize, process, reformat and distribute video and data in the form needed by practically any of today's battlefield displays.
From dedicated video processors and routers to embedded video distribution capability in power management LRUs, Leonardo DRS has the solution to maximize available video feeds and render the information to the user.
Leonardo DRS is a recognized leader in embedded vehicle electronic systems. The Digital Vehicle Distribution Box (DVDB) was developed and fielded to support Chassis Modernization / Embedded Diagnostics (CMED) of the Bradley Fighting Vehicle.
The DVDB provides for driver video management, hull power distribution and hull diagnostics on the A3 Bradley. Its functionality includes collecting, processing, reformatting and distributing video and data from a variety of systems on the Bradley to the driver. Over 3000 DVDBs have been fielded within the Bradley Fighting Vehicle platform.
Designed to grow and adapt to current and future needs, the DVDB offers the flexibility needed for the Bradley vehicles on the modern battlefield by utilizing current technology capabilities.
The DVDB provides embedded diagnostics capabilities to detect failures and assist in troubleshooting. This embedded feature eliminates the need for carry on diagnostic equipment such as BRADS and other external diagnostic equipment such as STE-ICE.
The embedded diagnostics monitors power lines, signal lines and sensors interfacing with the DVDB to determine the health and status of the Bradley chassis.
The embedded diagnostics routine is composed of three parts; Startup Built-in-Test (SBIT), Background BIT (BBIT) and Interactive BIT (IBIT). SBIT occurs at power on and checks the DVDB status. BBIT occurs during normal DVDB operation and checks the chassis status in a background mode without operator intervention. IBIT occurs in the DVDB maintenance mode and allows the operator to select individual tests to be performed for fault isolation and repair.
External Sidecar Data Acquisition Unit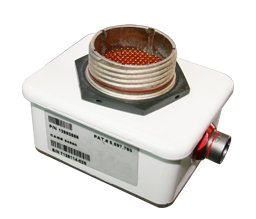 Enables Real-Time Vehicle Maintenance Status
The External Sidecar® Data Acquisition Unit provides access to system test signals without modifications to the system components. The Sidecar® monitors and digitizes up to 120 analog or discrete signals and provides the measurements to a high-speed data bus. The data can be collected and analyzed in real-time. There is no interruption or expenditure of system power because the Sidecar® receives its power via the combined data/power Sidecar® cable.
The Sidecar® performs several types of signal sampling on 120 channels, as commanded via the data bus:
Single volts direct current (Vdc) sample
Periodic Vdc sample
Fast Vdc sample/waveform analysis
Each Sidecar® broadcasts its data on a Controller Area Network bus (CANbus) per the SAE J1939 or MILCAN Bspecifications, allowing the user to create a highly flexible system. The system is comprised of a rugged single-board computer with display that evaluates the monitored/sensed data, dates, and timestamps; stores the data; and communicates diagnostic results in real-time to the vehicle operator and maintainer, as well as off-board to a data analysis center and/or to a whole fleet management system.
Used in conjunction with a Diagnostic Control Assembly (DCA), one or many Sidecars® may be used to complete a Health and Usage Monitoring System (HUMS) that provides vehicle maintenance status, vehicle readiness, and communicates this information to the vehicle operator and commander instantly. Sidecar® optimizes situational awareness and maintains storage of the accumulated vehicle health technical data for further use by the end user, maintainer or the Original Equipment Manufacturer (OEM).
M1A1 System Integrations Lab (SIL)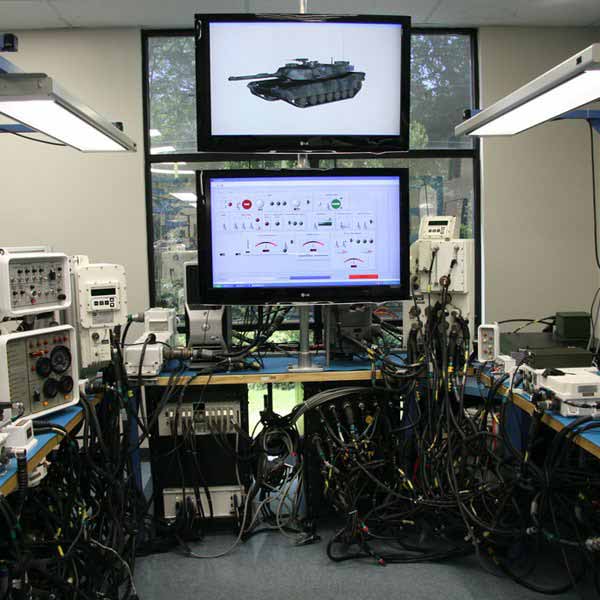 The M1A1 Family of Vehicles (FOV) Embedded Diagnostics (ED) System Integration Lab (SIL) is a fully integrated electronics simulator for the M1A1 Abrams tank. The M1A1 FOV ED SIL resides in an environmentally controlled laboratory within the Vehicle Integration Facility at Leonardo DRS Land Electronics, located in Huntsville, Alabama. This congressionally funded project was created to provide a valuable resource for the development and sustainability of Embedded Diagnostics upgrades for the M1A1 Abrams tank. The M1A1 FOV ED SIL also provides the capability to support numerous research and development activities related to the electronics on the M1A1 tank platform.
The M1A1 FOV ED SIL uses a combination of the following to simulate the M1A1 tank electronic environment: M1A1 Line Replaceable Units (LRUs), M1A1 system cables, Embedded Diagnostics hardware, an AGT1500 engine simulator, and a National Instruments data acquisition chassis for both turret and hull. The M1A1 FOV ED SIL uses both LRU signals and over 500 simulated complex signals to compose a system that emulates the electronics functionality and operation of the M1A1 tank. In essence, the M1A1 FOV ED SIL is a M1A1 tank on a bench that allows testing and development activity to be completed in a lab environment.
The M1A1 FOV ED SIL was developed to support two thermal variants of the M1A1 tank (with the hull being common to both thermal variants): the M1A1 Thermal Imaging System and the M1A1 Block 1 Second Generation Forward Looking Infrared (FLIR) thermal system. One major advantage the M1A1 FOV ED SIL provides is the time it takes to change from a TIS variant to a Block 1 Second Generation FLIR variant, which takes less than 2 hours. The M1A1 FOV ED SIL was designed so that other M1A1 variants can be easily integrated for future development. Future M1A1 variant candidates include the M1A1 Situational Awareness (SA) tank, the USMC M1A1 Firepower Enhancement Program (FEP) tank, the Assault Breacher Vehicle (ABV), and the Joint Assault Bridge (JAB), as well as any other vehicle configuration that utilizes the M1A1 platform.
Smart Power Management Unit (SPMU)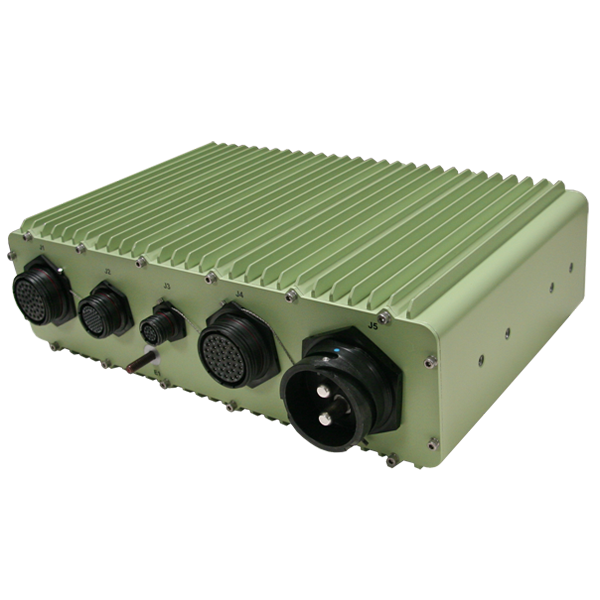 Vehicle Power Distribution
From small form factor to larger requirements, Leonardo DRS has the smart power management solution. Scalable programmable LRUs which integrate the smart power distribution requirements across varying loads with embedded diagnostics. Leonardo DRS solutions provide the user or system integrator with the flexibility to use pre-programmed operational profiles in addition to real-time commands to ensure safe and effective performance in a variety of combat or mission scenarios.
The SPMU is a multi-channel 28VDC power controller that is capable of power management and diagnostics. The SPMU is conduction cooled, microcontroller-based, Solid State Power Controller (SSPC), designed with Line Replaceable Module (LRM) characteristics for military and commercial applications.
Each of the 32 channels of the SPMU has software programmable current ratings and can operate in groups. The design has integrated current, temperature and voltage sensing and no derating over temperature. Parameter measurements, system status information, and control commands are implemented over CAN and Ethernet bus interfaces.
CURRENT PROTECTION – Similarly to the traditional electromechanical circuit breakers, the SPMU protects electrical circuits by closely controlling the I2t factor.
CHANNEL PARALLELING – Multiple individual channels can be paralleled in order to handle large current loads. The current rating is calculated as the sum of the individual channel ratings.
HEALTH MONITORING – The SPMU provides current, voltage (input and all outputs) and temperature measurements. This data can be used to monitor electrical loads and perform tasks such as diagnostics, prognostics and condition-based maintenance.
SMART MANAGEMENT & DISTRIBUTION – The SPMU provides "smart" functionality such as alternate channel control, additional I/O control, alarm/fault reporting, on-board diagnostics,, loss-of-com states, load shedding, reprogrammability, plug and play swapping, configurable in the field, and other higher-level power management.
Related Products
Related News
Contact
Carlos Aguirre
Land Electronics
For any further information