QCL-IR for Electro Optical / Infrared Countermeasures (EO/IR)
Man-portable air-defense systems (MANPADs) are portable IR missiles that can be fired from the ground to target aircraft. This is one of several electro optical infrared threats that pose a serious threat to national security when in the hands of criminals, terrorists and other bad actors, given their small size (about 4 to 6 feet long) and easy transportability. The United States Government has made this a priority to protect military and commercial aircraft from these threats with aircraft protection technology.
Aircraft Survivability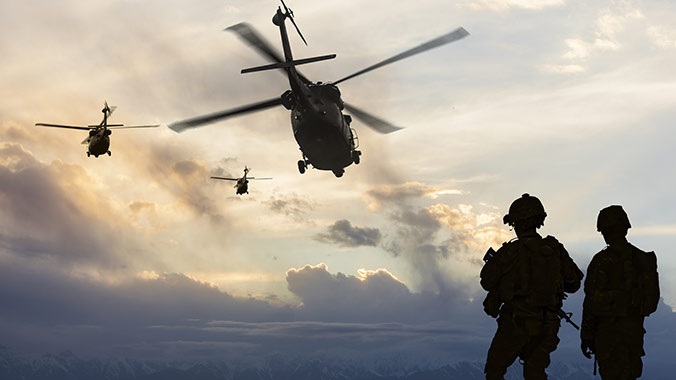 Before the Daylight Solutions business unit of Leonardo DRS commercialized Quantum Cascade Laser (QCL-IR) technology for defense applications such as Directed Infrared Countermeasures (DIRCM), systems were restricted to using lasers that were developed using dozens of individual components to generate individual "colors" required to defeat electro-optic threats. Such legacy lasers are large, bulky, heavy, and consume significant electrical power to operate. These laser limitations restricted DIRCM system deployment to only large aircraft that could afford to carry the weight and provide the necessary power. Further, these systems' reliability has been very limited, necessitating significant ongoing operations and maintenance costs.
Leonardo DRS has developed QCL technology for both commercial and military applications. Our QCLs are comprised of commercial semiconductor technologies like those used in the microelectronics industry. As such, QCLs are very compact, millimeter-scale devices that can be easily integrated with conventional electronics and mechanical hardware, providing system designers with a wide degree of flexibility when optimizing applications.
Furthermore, our QCL innovations have enabled, for the first time, DIRCM systems to be deployed on lightweight rotary- and fixed-wing aircraft, providing those soldiers and personnel with the protection necessary to defeat electro-optic threats. QCL-based directed IR countermeasures can be deployed by every service whose aircraft require electro-optic survivability equipment, e.g., Army, Navy, Air Force, SOCOM, etc.
The QCL-IR Advantage
Leonardo DRS' high-power, multi-color laser systems provide best-in-class performance for defense applications. Based on our ground-breaking quantum cascade laser technology, these high-power laser systems represent the ultimate choice for aircraft survivability equipment, providing the following enabling capabilities.
Size, Weight, and Power (SWaP): Previously, DIRCM systems were only installed on large aircraft that could afford to carry heavy equipment. The minimal SWaP of our QCL-based lasers enables, for the first time, DIRCM systems to be deployed on lightweight, rotary- and fixed-wing aircraft.
Multi-Spectral Performance: Our QCL-based laser systems integrate multi-spectral laser performance from a single system, enabling the complete electro-optic threat to set to lightweight aircraft to be addressed from a single laser system.
Inexhaustible Supply: With QCL-based DIRCM systems, soldiers can defeat an unlimited number of threats during their mission. Previously, IRCM systems were limited by the number of flares that could be discharged to defeat the threat before they no longer benefit from such protection.
Reliability: QCL-IR high-power laser systems are ruggedized to military standards, having logged over 10,000 hours of environmental testing and end-to-end testing to ensure long-term reliability.
Modular Open System Architecture (MOSA): Our QCL-based DIRCM laser systems have been designed using commercial technologies integrated into a modular architecture. This enables our systems to be continuously upgraded with "plug and play" components; as technologies mature and improve, they can be inserted seamlessly to provide upgraded capabilities. This not only offers best-of-breed performance but can save a significant amount of future cost that would historically be required to develop, qualify, and deploy new systems to address evolving threats.
The Future of QCL-IR
New Infrared Laser Applications for Space Communication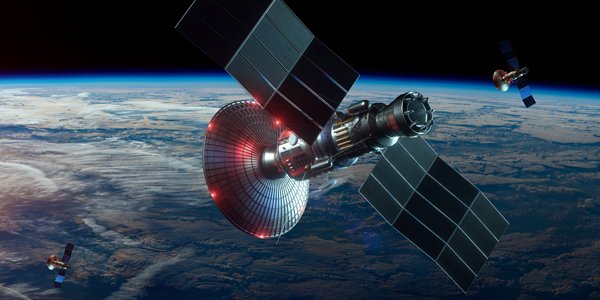 Many of us are familiar with the idea of radio waves for communication including for television, mobile phones and radio. Radio waves have been the preferred method for communication and transmitting information on Earth, but what about in space?
With the introduction of Space Force, the growing demand for commercial space travel, and general scientific interest in space, there is a stronger demand to improve technology to meet the demands of space. Specifically, the communication needs to be quick, ruggedized, and able to transmit high-quality content. Radio waves can be effective for space communication, but the long wavelengths are highly susceptible to scattering. This presents security challenges where information can be detected by bad actors.
Infrared lasers have shorter wavelengths and narrower beam widths that offer directed, high-speed communication. According to NASA, laser communications will "enable 10 to 100 times more data" than radio waves. Furthermore, the narrower beam will offer more secure transmission and making it far more challenging for bad actors to intercept the message.
Infrared for Combat Identification (ID)
Efficient combat identification (CID) methods help reduce friendly fire incidents involving allied forces. Leonardo DRS's team have been able to leverage their QCL-IR technology into compact, portable, and battery-operated packages that provide an easily identifiable signature for tactical mid-wave infrared and long-wave infrared imaging systems. These multi-spectral beacons can be used on land-based or sea-based vehicles and personnel in order to offer essential situational awareness, thus helping avoid unwanted casualties.
Technologies
QCL-IR Laser Systems
Ruggedized Quantum Cascade Laser Systems for Infrared Countermeasures Electro-Optical Threats
Related News
Contact
Daylight Solutions
16465 Via Esprillo
San Diego, CA 92127
For any further information