Leonardo DRS has a proud history of providing leading edge rugged systems for embedded applications such as datalinks and mission computing, as well as being a world leader in the design, development and support of complex Electronic Warfare (EW) and Defensive Aid Systems (DAS) and complete End-to-End test systems.
Leonardo DRS End-to-End test (ETET) equipment is designed to test the installed performance of Electronic Warfare (EW), Avionics and Electro-Optical systems. Leonardo DRS is the preferred supplier of this equipment to the UK MoD. The ETET equipment has been shown to address the Built-In-Test (BIT) gap on installed EW and avionic equipment.
The Leonardo DRS EW Test Solution has to detect the threat as early as possible if it is to increase platform survivability.
The Three Tier solution will detect if platforms are fully protected.
Avionics EW Test Solutions
Antenna Coupler Set (ACS)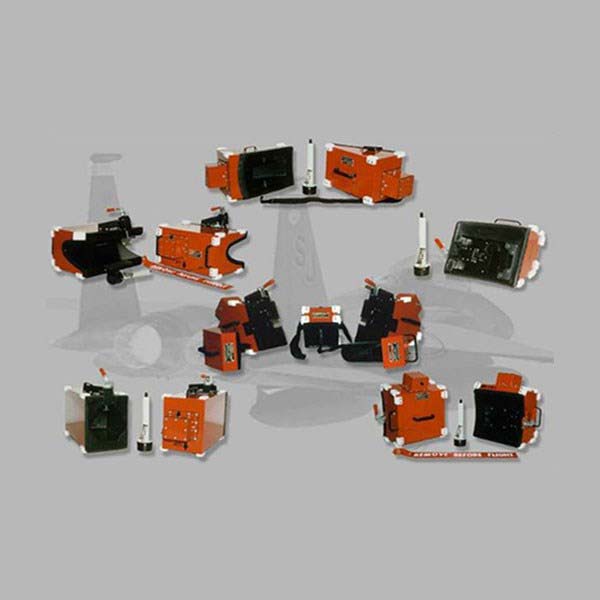 Aircraft-Specific Antenna Couplers for Avionics Testing
Leonardo DRS manufactures Antenna Coupler Sets for a variety of aircraft and installed electronic combat systems.
Leonardo DRS develops and fabricates MIL-PRF-28800-compliant Antenna Coupler Set (ACS) hardware to your specific airframe, electronic warfare (EW) and avionics suite testing requirements. The ACS' provide an interface for end-to-end radio frequency (RF) testing of EW and avionics assets at the organizational level (O-Level).
Our antenna coupler hardware is designed to provide a highly accurate, repeatable and maintainable on-aircraft RF testing capability that can be used with appropriate RF sources or test sets. These antenna coupler sets are optimally used with commercial-off-the-shelf and militarized test sets like the Eurofighter Defense Aids Sub System factory tester and Leonardo DRS' complete line of O-Level test systems, such as:
General Purpose EW End-To-End Test System
Compact End-to-End Tester
RF Stimulation and Measurement Unit
Electronic Combat End-to-End Test System (EC-ETET)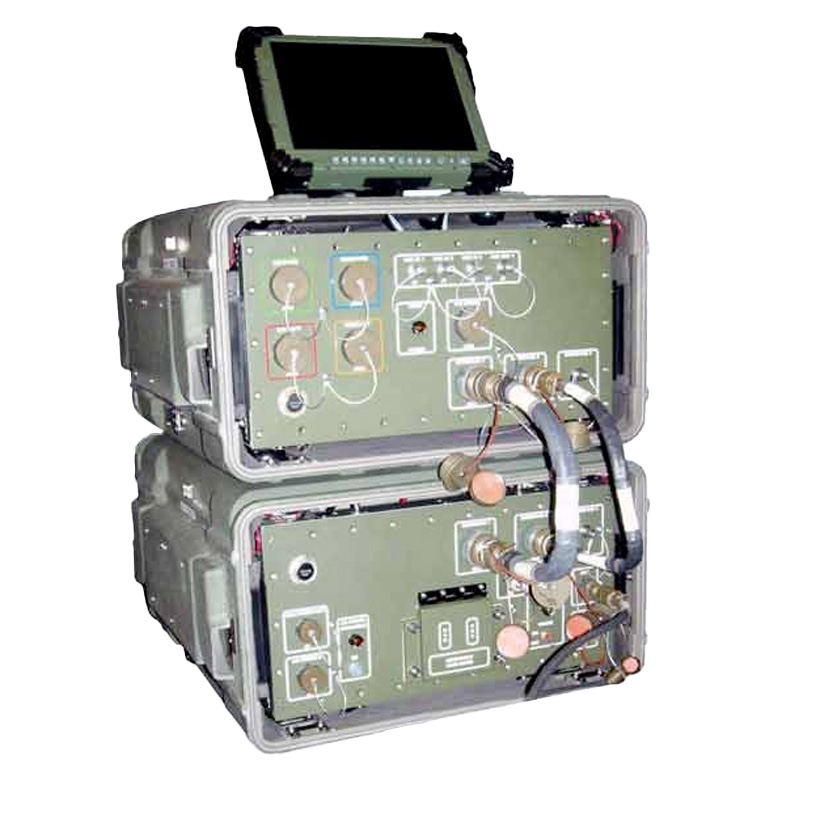 Providing Performance Verification of Installed Electronic Combat Equipment
The Electronic Combat End-to-End Test System (EC-ETET) provides the latest in state-of-the-art synthetic instrument (SI) technology. Using SI allows the test system to inhabit a smaller footprint than other testers with similar capabilities.
The major components of EC-ETET are:
Digital Control & Interface Unit (DCIU) (PN: 900749-001)
Radio Frequency Control & Interface Unit (RFCIU) (PN: 900750-001)
Case, Accessory, EC-ETET (PN: 900739-001)
Control & Interface, EC-ETET (PN: 900736-001)
Synthetic instrument (SI) technology reduces near-term obsolescence risks and also makes it possible to bring traditional instrument's such as broadband radio frequency synthesizers, spectrum analyzers, waveform analyzers, oscilloscopes, and power meters out to the flightline in a military qualified, man-portable tester. The combination of increasingly available commercial-off-the-shelf synthetic instrument hardware and Leonardo DRS' vast library of graphic user interface software modules allows Leonardo DRS to easily customize and reconfigure the tester to meet our customers' needs today, and well into the future.
EC-ETET capitalizes on proven tester architecture currently employed by the United Kingdom Royal Air Force and Royal Navy, as well as the Royal Netherlands Air Force. The system is the latest generation of Leonardo DRS aircraft test equipment products, which include the Electronic Warfare End-to-End Test system currently in use at Eurofighter assembly plants as factory sell-off test equipment.
Enhanced Common Optical Emitter Test System (ECOETS)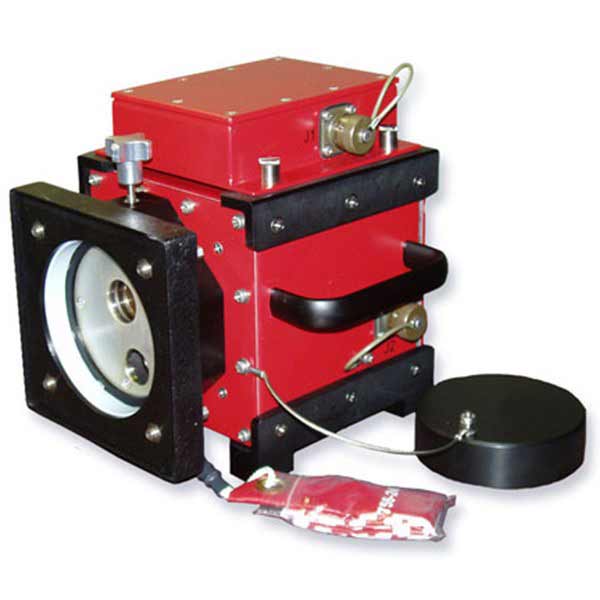 A Compact, Electronic Warfare, Ultra-Violet, Infrared Laser and Realistic Laser Simulation Electro-Optical Test Unit
The Enhanced Common Optical Emitter Test System (ECOETS) system incorporates adaptable software to provide testing not accomplished during system built-in-test. Testable areas include: detector sensitivity, laser warning, false-alarms and advanced multi-quadrant testing. The enhancement to the COETS adds a realistic IR Laser simulation to Missile Warning systems for detection of Laser Range Finder, Laser Designator and Beam Rider threats. The heart of the COETS is the sensor coupler, which offers unparalleled on-weapon system testing flexibility. The COETS coupler can be mounted onto the sensor for comprehensive testing, or can be hand-held for walk-around go/no-go testing.
COETS offers repeatable on-aircraft alignment of the coupler to the sensors and provides a consistent light-tight testing environment to establish baseline system performance and measure sensor degradation over time. Testing is accomplished using the optical emitter coupler and a rugged laptop, or in a stand-alone capacity using embedded test software. The test results can be recorded and tracked by sensor serial number for each aircraft. Mounting adapters allow the COETS to be used on any UV-based missile warning system installation, providing precise coupler positioning, weight support and a light-tight environment.
HIGHLIGHTS
System performance and baseline
Sensor degradation measurement
Aircraft wiring and connector integrity check
Simulated missile and laser signature
Advanced multi-quadrant testing
A selectable go/no-go mode allows the maintainer to perform a walk-around test for functionality or preflight confidence check without mounting the coupler onto the sensor. The design incorporates emitters operating in the ultraviolet spectrum and an infrared laser to functionally check all operational parameters of the optical sensor. Software control through a rugged laptop and graphical user interface displays ensure high quality system functional and parametric testing, for a complete, integrated system health check.
The software supports creation of new missile signatures, recalling predefined signatures and generating multiple laser threats such as: laser range finders, laser designators and beam riders. Customized, adaptable software provides flight line maintenance personnel the ability to monitor key parameters, which are normally accomplished manually by highly trained maintenance specialists at higher maintenance level facilities. Key performance parameters include optical sensor sensitivity and operation, aircraft wiring and connector integrity, and recognition of simulated missile and laser signatures. Multiple couplers can stimulate all quadrants from the optical sensors through the system processor, using Leonardo DRS threat simulation software.
*Specifications subject to change without notice.
Eurofighter On-Aircraft Test Systems and Antenna Coupler Sets
On-Aircraft Test Systems and Antenna Coupler Sets for Eurofighter Combat Aircrafts
On the factory production line, at depot or on the flightline, Leonardo DRS has Eurofighter operational and functional test requirements covered with our on-aircraft test systems and antenna coupler sets (ACSs). Our ACSs enhance testing by:
Isolating the electronic warfare (EW) or avionics system from environmental and spurious radio frequency (RF) signals
Eliminating the guess work of hand-held test fixtures
Increasing system testing repeatability
The MIL-PRF-28800-compliant ACSs provide an interface for end-to-end RF testing of EW and avionics assets at the organizational level (O-Level). Test Set hardware is designed to provide a highly accurate, repeatable and maintainable on-aircraft RF testing capability that can be used with appropriate RF sources or test sets.
Designed for easy and secure installation, Eurofighter ACSs use electronmagnetic interference-shielded housings that conform to the shape of the aircraft system antenna radomes to provide the human safety factors needed for high-power RF testing. The ACS housings provide total system isolation from extraneous RF and environmental signals, creating a secure testing environment for simulating real-world threats without compromise of sensitive emitter identification data.
Hand-Held RF Test System (HRTS)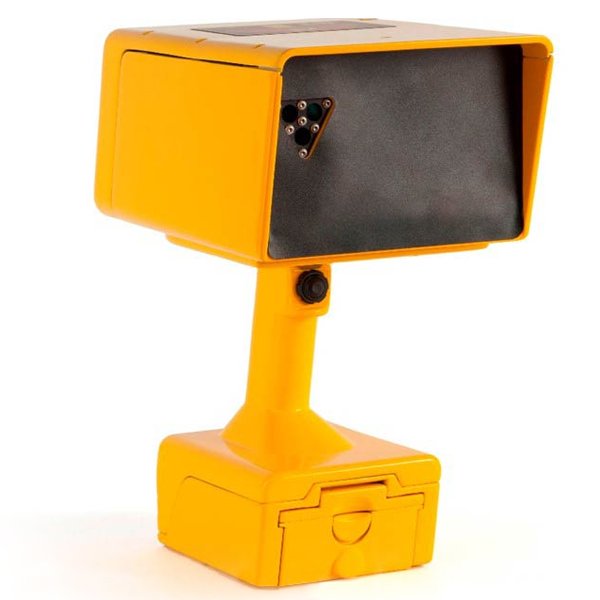 Hand-Held All in One Test Set Electronic Warfare (EW) Threat Stimulator
The HRTS is designed to be an all-in-one 'End of Runway' Go/No Go confidence tester for installed aircraft warning receiver systems, or used with any RF Antenna Coupler to stimulate an RF Radar Warning Receiver based system through a direct connection.
The HRTS is a fully programmable hand-held electronic warning stimulator unit for stimulating/testing platform Electronic Warfare (EW) systems. It is a self-contained battery operated unit that is easily programmed to produce simple or complex real world threat signals that installed threat warning systems are programmed to detect. The HRTS 4.3 inch color screen and edge keys guide the user quickly and easily through test scenarios.
Test files are stored in a plug-in USB stick that is inserted into the HRTS. The HRTS also has the capability to support the use of hardware encrypted USB sticks. The HRTS software enables users to quickly program threat
parameters using simple on-screen instructions.
The HRTS transmits threats in 'Free Space', and can also be connected to an antenna coupler for RF threats. This enables repeatable tests to be performed on individual antenna quadrants.
FEATURES:
All in one threat emissions; Radar, Laser, & Missile
Fully programmable .625-18 GHz and 26 to 40 GHz
Continuous wave (CW), pulse and staggered pulse threats
Programmable UV/IR missile profiles
Programmable Laser threat profiles
Fully menu driven system that can be tailored to different languages
PC support package for test file generation
Stimulate any installed RF Threat Warning through an existing antenna coupler over its entire operating bandwidth
MOPP4 friendly interface
Hot Mock-Up Benches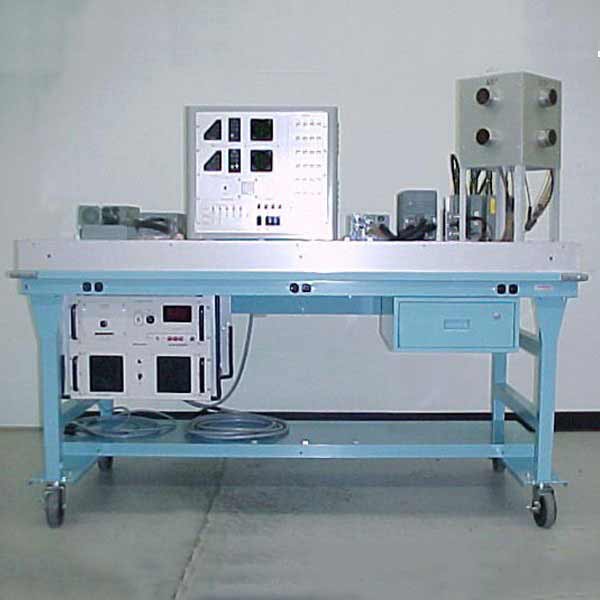 Leonardo DRS has developed several standard Hot Mock-up Bench (HMB) configurations for the AN/ALR-69, AN/ALR-56M, AN/ALE-47 and AN/AAR-47 avionics systems. Included in these configurations are the Integrated System Simulator, a 19" rack configuration, the Portable Test Unit configuration, and a computer enhanced configuration used for Intermediate-Level applications with increased screening, test and diagnostic applications. The HMB can also be used with the Leonardo DRS ALR-56M/ALR-69/APR-39 system Antenna Coupler Set for connection of an organizational-level tester such as the Leonardo DRS Electronic Combat End-To-End-Test System, or through a direct connection using radio frequency cables with TNC connectors.
MAINTENANCE APPLICATIONS
A primary function of the Hot Mock-up Bench (HMB) in the maintenance environment is resolution of installed Electronic Warf re system "can not duplicate" (CND) maintenance actions. Through line replaceable unit (LRU) screening, the HMB reduces CND or retest OK (RETOK) rates. This ensures that only malfunctioning LRUs are returned to depot for repair, and can also be used to verify LRU serviceability prior to aircraft installation. The HMB is also a valuable tool for eliminating guess work in resolving ambiguities between Group B malfunctions and those rare and difficult to identify Group A malfunctions.
ELECTRONIC WARFARE (EW) SYSTEM TEST & EVALUATION
US Air Force depot engineering shops and test centers alike have proven that DRS HMBs provide a viable platform for system software and hardware development and integration of operational of flight program (OFP) and mission data, without having to rely upon the user commands for access to aircraft. One fielded use is to interface multiple system HMBs, for a total installed system suite-level hardware integration, test and evaluation. The HMB also supports system level modification, test and evaluation in an off-aircraft environment, reducing costly flight test hours.
AIRCREW TRAINING
The HMBs also provide hands-on familiarization training that implements aircraft controls and indicators. In this configuration, the HMB supports realistic operational training — the EW system operates exactly as installed in the aircraft, and the aircrew can see how the aircraft systems act, react and respond to commands from the cockpit controls. Multiple system mock-up benches can be integrated to operate together and offer real-time system display and threat familiarization training for C-130H, F-16 and A-10A aircrews.
Related News
Contact
Carlos Aguirre
Land Electronics
For any further information