Cool with a range of solutions from storerooms to condensing units to low temperature forced air product coolers.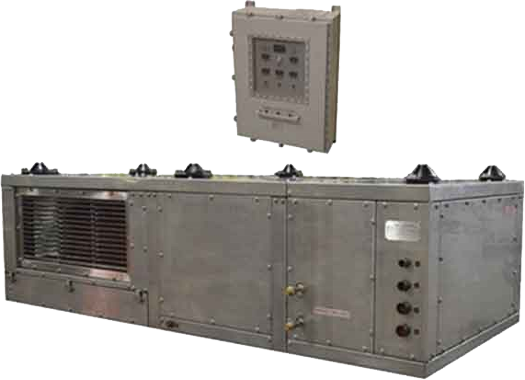 Modular Refrigeration System (MRS)
Developed for DDG 51 Flight IIA, the Leonardo DRS designed Modular Refrigeration System (MRS) is a high-efficiency system that incorporates self-contained diagnostic capabilities and a simple to use Human Machine Interface (HMI). The flip of an internally mounted switch is all that is required to convert the system from chill to freeze mode. Full system redundancy is assured with two or more units.
Incorporating the latest Navy concepts in ships stores refrigeration, the MRS consists of a Modular Refrigeration Unit (MRU), controller, remote mounted condenser and associated cables that make installation much simpler and more robust than past refrigeration systems. DRS has designed the MRS to have the condenser mounted outside of the freeze / chill space. This arrangement eliminates the possibility that the chilled water would freeze in the condenser, damaging it and shutting down the system.
The fully-qualified .75 Ton version of the MRS has 9,000 BTUH refrigeration at freeze conditions, and 12,000 BTUH (1.0 Ton) refrigeration at chill conditions. The 1.5 Ton (18,000 BTUH) unit is under development.
Self-Contained Ship Stores
Leonardo DRS Marlo Coil offers a purpose designed self-contained Ship Stores Refrigeration System for combatant ships and submarines. The system consists of separate freeze and chill storerooms that share a common refrigeration system. The chill storeroom is able to be converted to a freeze storeroom when necessary.
The single skid design allows a complete factory assembled and factory tested unit to be delivered to the shipbuilder ready for insertion into the ships structure. Interfaces to the ships chilled water, electric, control, and condensate drain systems can happen in days in lieu of months greatly reducing the impact to the ships typical freeze and chill storeroom erection schedule.
The construction consists of fully welded corrugated aluminum panels forming the interior and exterior of the cabinet with up to 4" of foam-in-place insulation separating the inner and outer cabinets. This virtually eliminates cold shorts between the refrigerated spaces and the ships interior spaces. This concept is limited to being able to ship a single skid unit via flatbed truck from the manufacturing facility near St. Louis, MO USA to the shipbuilder via the highway system. Consequently it is most suitable to submarines and smaller surface vessels.
Related News
Contact
Jason Krentz
Naval Power Systems - Marlo Heat Transfer Solutions
For any further information