Display, Processing, and Networking Center of Excellence
Johnstown, PA, is home to our 203,000-square foot Display, Processing, and Networking Center of Excellence where we offer leading edge manufacturing capabilities. We have fully updated facility specifications that allow our team to provide low cost, high quality production with a lean management team supporting on-time deliveries every time. Services on site include systems integration, assembly, and test. Our reliable and efficient production process has allowed us to honorably support several major Naval programs.
Capabilities at This Location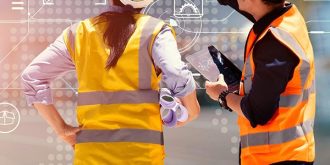 At Leonardo DRS Naval Electronics our goal is to maximize customer value and increase sustainability. Our highly engaged …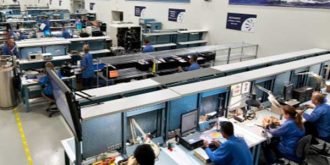 Our experience in advanced manufacturing, assembly, integration and testing of products across our facilities has enabled …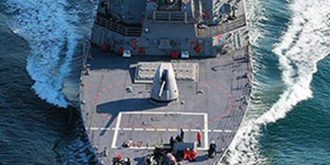 Our extensive and encompassing experience in isolating and integrating COTS hardware into the shipboard environment …
Circuit Card Assembly (CCA)
Our Weapons Spec Qualified Circuit Card Assembly lines minimize product variability and ensure quality performance. Process automation used in Circuit Card Assembly (CCA) includes:
MPM Momentum Stencil Printer
3D IN-LINE Solder Paste Inspection
ERSA Fully Automated Selective Solder
Dual Universal Surface Mount Lines
BTU 16 zone SMT Reflow Oven
SpeedLine Wave Solder Reflow
CyberoOptics SQ3000 Automated Optical Inspection
Nordson Dage X-Ray capability for ball grid array, leadless chip component and plated-thru hole inspection
Robotas Laser Guided Hand Assembly
Facility
The Johnstown 203,000 sq-ft Facilities are fully updated to provide production that includes:
Integrated Facility Switchboard (IFS) to support Shipboard Power requirements for 440, 220, 115 3 Phase and 115 Single Phase Delta Power
63,000 sq ft of flexible, reconfigurable production and test space
ESS capability including temperature chambers and vibration tables including a walk-in temperature chamber
Facilitized space and assembly equipment currently supporting production of 1,000+ consoles and equipment racks annually
Performance
Naval Electronics in Johnstown is a low cost, high quality production center with a lean management team supporting on-time deliveries.
Facility supports the production of 1,000+ large systems annually (display consoles, processing equipment racks, network equipment racks)
Circuit Card Assembly (CCA) line producing 20,000+ CCAs annually
Johnstown facility is ISO 9001:2008 and AS9100C Certified
Production and quality team members are J-STD-001, IPC-610 and IPC-620 certified
Certified J-STD-001 Trainer on-site
DCMA team on-site
Key Programs
We are a trusted production facility for the following key programs:
Technology Insertion Hardware (TIH) – Subsurface display, processing, and network equipment for sonar and combat control systems – ~ 10 shipsets per year (200 consoles and equipment racks)
Common Display System (CDS) – Display consoles and peripherals for surface ship combat systems – ~ 300 consoles per year
Common Processing System (CPS) – Processing and network equipment for surface ship combat systems – ~ 120 equipment racks per year
Common Afloat Network Enterprise System (CANES) – Network and communications equipment for surface and subsurface Naval platforms ~ 400 equipment racks per year
MK 41 Vertical Launch System Weapons Electronic Assemblies with Spec level SMT Circuit Card Assembly, Test and Conformal Coat
Related News
Join Our Team
Lead the Way
Be a key contributor to a leading defense technology innovator. See how much further your energy, expertise and intelligence can take you.
Area Information
This industrial city has become home to many high-tech defense companies for production, generating over $100M annually in federal government contracts.
Contact
Leonardo DRS Naval Electronics
246 Airport Road
Johnstown, PA 15907
+ 1 814 534 8900
[email protected]
For any further information