Our extensive and encompassing experience in isolating and integrating COTS hardware into the shipboard environment mitigates risk in deploying advanced Combat Systems computing, storage, and networking hardware to ships in operational environments at sea.
We routinely design, develop, and qualify full scale Commercial Off-the-Shelf (COTS) based payloads for the maritime environment as specified by the associated mil standards (e.g., shock, vibration, power, noise, and EMI) supporting deployment of COTS hardware in both forward-fit and back-fit applications.
With computing becoming denser more shipboard power is required to operate the hardware; as well as additional heat is created. To account for these changes, we leverage existing and new designs, models, products, and tools to accelerate the timeline to qualification and delivery.
Shipboard Cabinet Highlights
Small form factor cooling solutions (water 15kW, air 5kW) that increase the thermal load by 5x over legacy cabinets.
Modular power components to provide primary power conditioning and distribution, achieving enhanced power capacity as compared to legacy shipboard cabinets.
Advanced mechanical hardware including slides and shock / vibe isolation techniques.
To complement our approach our established vendor relationships, provide specific engineering discipline and production services to solve the toughest development, design, and production scenarios quickly and efficiently. For example, we utilize copper microchannel HEXs that offer improved corrosion resistance, strength, and conductivity as compared to aluminum improving the thermal performance (up to 5x) as compared to legacy tube-fin HEXs used in legacy cabinets.
We team with our customers to design and qualify a shipboard cabinet that enables your hardware to perform its best at sea.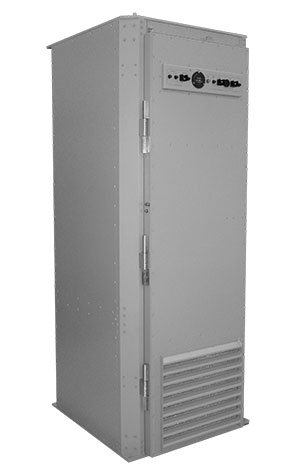 Request Information
Looking for more information on Advanced Electronics Packaging for Shipboard Operations? We would like to hear from you.
Related News
Contact
John Reichl
Senior Director, Business Development Naval Electronics
For any further information