All-Weather, All-Road Heavy Equipment Hauler
The combat proven M1000 Heavy Equipment Transport semi-trailer carries armored vehicles and other heavy equipment loads weighing up to 70 tons. Rugged pendular suspension and automatic multi-axle steering ensures that the M1000 can get loads where they are needed.
The technology used in the M1000 has proven its value and capability in many years of military and commercial use. The M1000 fully satisfies the difficult mission to load, unload and transport the M1 Abrams Main Battle Tank and other heavy equipment worldwide on highways, secondary and cross combat surfaces in all weather conditions.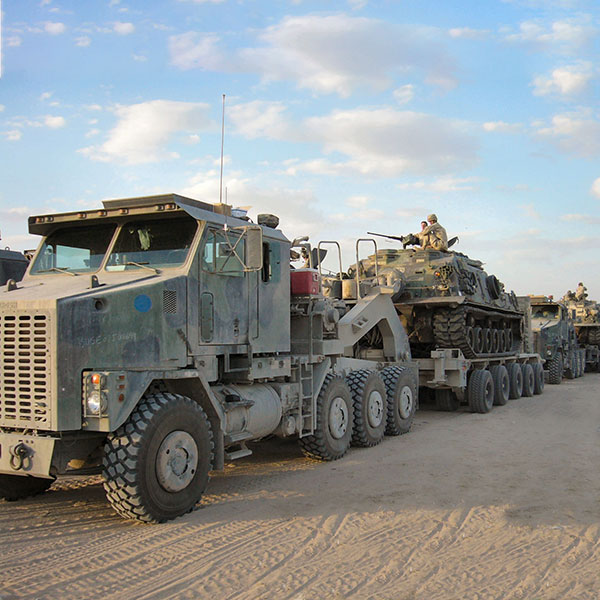 PAYLOADS – Tracked and wheeled vehicles – even disabled – as well as breakbulk cargo and ISO containers. Optimized for transport of the Abrams Main Battle Tank (M1 series). Can transport up to 70 tons at reduced speeds
TRACTORS – Compatible with current and future U.S. and NATO tractors, including M1070, M911, M746 and MK48/16, SLT50-2, as well as M916 for heavy-duty medium equipment transport role
MOBILITY – Highways (45 mph / 72 km/h), secondary roads (40 mph / 64 km/h), and trails and cross country (15 mph / 24 km/h)
TURNING – Tight turns with no tire scrub and minimal off-track. Negotiates intersections of 30-foot wide (9.1 m) roads in one uninterrupted pass. Manual steering for low-speed maneuvers in tight clearance locations
HYDRAULICS – Fingertip control of deck height (± 25.4 cm/± 10 inches), gooseneck angle and axle jacking. Diesel auxiliary power supply is provided
DIMENSIONS AND WEIGHT (STANDARD DECK) – O/A length 52 feet (15.8 m). Deck height adjusts ± 10 inches (± 250 mm). Deck length 33.6 feet (10.2 m). Deck width 10 feet / 3.05 m. Deck height 43 inches (1.1 m). Trailer weight 50,400 lbs. (22, 860 kg)
RUNNING GEAR – Axles: five axle lines, two half-width axles per line; each axle can oscillate laterally to accommodate crowned roads and rough terrain
SUSPENSION – Hydraulic, equalized, independent from side to side; axle vertical travel ± 10 inches (250 mm), total 20 inch (500 mm)
STEERING – Hydraulically actuated mechanical linkage, axle lines 2, 3, 4 and 5 automatically steer to proper Ackerman geometry in accord with tractor-trailer angle, requires no modification to tractor or additional driver tasks
BRAKES – Two-line straight air with spring-actuated park/emergency features
TIRES – 215/75 R17.5; 40 tires plus two spares
GOOSENECK PIVOTING & KINGPIN – Hydraulically supported gooseneck equalizes 5th wheel load and provides superior flexibility for grades and rough terrain, 5th wheel: nominal height 63 inch (1.6 m), variable and kingpin: 3.5 inch (89 mm) diameter, U.S. / NATO heavy duty standard, removable
WINCH – Compatible with all military tractor dual winches. USMC- version compatible with single winch
RELIABILITY – Suspension allows for limited operation with one disabled axle raised. Redundant steering and suspension provides for fail-safe operation
MAINTENANCE – Tire change by one person without removing payload within 30 minutes (axles rotate for access to inside tires). Deck height adjustment provides running gear maintenance access
SHIPPING – Air-transportable in C-5 with tractor and C-17 with trailer only. Sea-transportable on roll-on, roll-off vessels. Meets PPI (Berne Tunnel) envelope for rail shipment
SAFETY AND RELIABILITY – Mean time between failures is 3,000 miles, complies with U.S. DOT FMCSR and FMVSS. Dual-line redundant hydraulics preclude failure due to hose rupture
Highlights
Completely automatic steering
Requires no tractor modification
Self-equalizing hydraulic suspension
Gooseneck compensation prevents 5th wheel overload
Built with non-developmental components
Adjustable deck incline eases loading / unloading
Mission-capable in all environments
Flexible
Maneuverable
Maintainable
Related News
Contact
For any further information