Rapid emplacement of fuel and non-potable water supply lines across the modular battlefield
Leonardo DRS Early Entry Fluid Distribution System (E2FDS) complements the Inland Petroleum Distribution System (IPDS) by providing a means to rapidly extend existing fuel distribution networks.
E2FDS is a modular and scalable system of systems with a rapid emplacement capability that keeps pace with the fuel demands of an advancing front and evolving battlespace has a deployment rate of 25-miles per 20-hour day, with a retrieval rate of 10 miles per day.
E2FDS in Action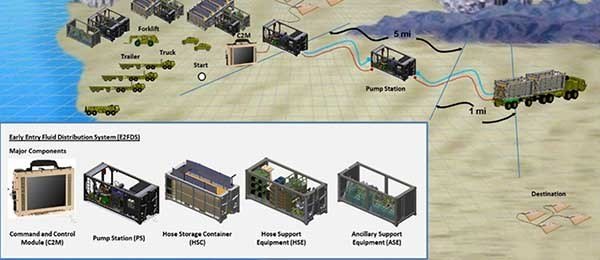 Concept of operation: E2FDS is a containerized fluid movement system designed for rapid deployment. Complements the current Inland Petroleum Distribution System (IPDS).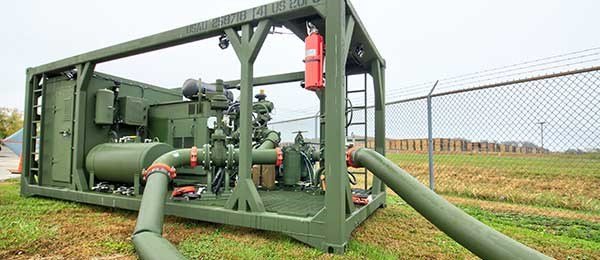 Remotely controlled and monitored pump station with a pumping capability of 1M gallons of fuel or 750K gallons of water per 20-hours.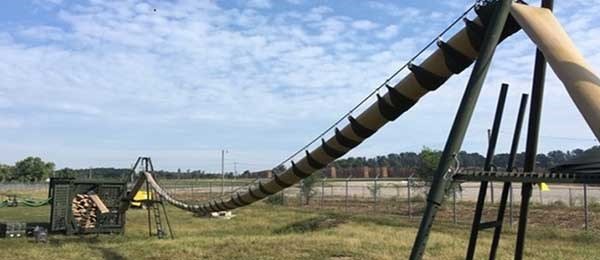 Gap Crossing Kit allows for hose to traverse deep obstructions in the terrain.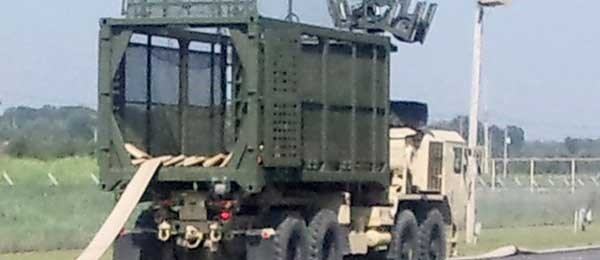 E2FDS hose emplacement is gravity fed from the storage container as the container is driven along the desired course. During the hose emplacement operation, the fiber optic cable is laid along side the hose.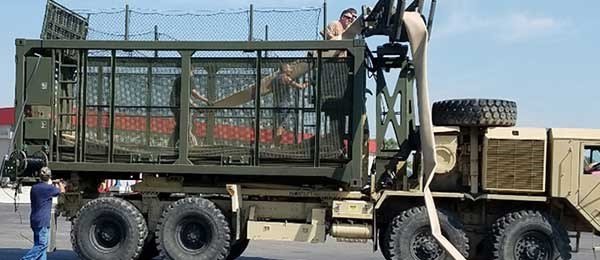 E2FDS hose retrieval is performed by a tugger mounted to the truck. While the hose is being retrieved, soldiers lay the hose flat in the storage container. During the hose retrieval operation, the fiber optic cable is rewound onto a spool by an electric motor.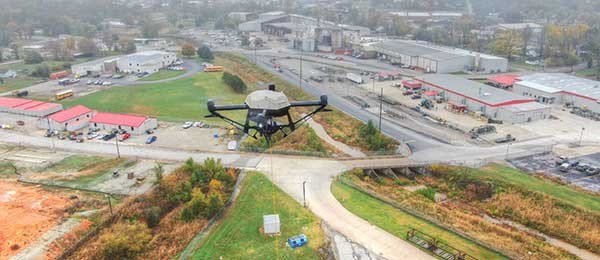 Hoverfly UAS provides 24/7 remoted visual surveillance of the E2FDS system and the surrounding area. Tethered to the pump station, Hoverfly video and pictures are sent to the remote operation site over the same fiber optic cable that controls E2FDS.
Highlights
E2FDS packaged in 5-mile sets consisting of 8x ISO frames. Designed to interface with standard material handling equipment.

One mile of hose per container (5 containers)
Two pump stations (2 containers)
Auxiliary Equipment (1 container)

Flexible hose flacked into vented ISO container provides Rapid Emplacement and Retrieval rate with reduced soldier involvement.

Emplacement rate of 25 miles per 20-hour day
Retrieval rate of 10 miles per 20-hour day
Flexible hose contours to terrain and shallow gap crossing

Limited to no site preparation prior to system emplacement and operation
E2FDS controlled and monitored via Fiber Optically informed Hardened Laptop:

Eliminates in person soldier control and monitoring at pump stations
Enables rapid and precise system synchronization during pumping operations
Reduces radio frequency or satellite over usage
Provides system level maintenance status
Monitors pump station input and output for leak detection
Provides desktop operator training
Ease of tracking fuel movement quantities across the battlespace

Five-mile systems can be linked together to provide virtually unlimited supply line
Fuel can be dispersed into a bag farm or directly retailed via a Pump Station
Accepts fuel form a tanker ship, established fuel storage tanks, or deployable fuel bag farm
Ship-to-shore operations possible via marine rated hose (not included)
Optional tethered UAS provides 24/7 situational awareness via visual surveillance of the pump station, hose trace, and surrounding area
Related News
Contact
Kurt Peterson
Land Systems
For any further information