Supporting Mission Readiness
All aspects of a support program are addressed with our Navy ILS products that reinforce mission readiness when the equipment or system is deployed.
Our logisticians use industry-standard processes and non-proprietary tools to perform and prepare logistics products such as:
Engineering Drawings
Approved Parts Lists (APL)s
Installation and Checkout (INCO) and Onboard Repair Parts (OBRP) Spares Lists
Provisioning Technical Data (PTD) for Interactive Computer Aided Provisioning System (ICAPS) entry
LRU Cross Reference Lists
Special Tools and Test Equipment Lists
Reliability, Maintainability and Availability (RM&A) Analyses (including Reliability Block Diagrams, Level of Repair Analysis [LORA], Failure Reporting, Analysis and Corrective Action System [FRACAS], Failure Mode, Effects, and Criticality Analysis [FMECA] using WindChill software)
In addition, our Navy ILS team is certified in performing Reliability Centered Maintenance Levels I and II to develop and maintain Preventive Maintenance System (PMS) procedures in accordance with MIL-P-24534A for PMS planning.
Leonardo DRS develops training and technical documentation for a variety of delivery systems, including paper hard copy products, web-based products, and computer-based products.
Our Maintenance Training Simulator features 3-D first-person interactivity that allows the student to interact with the virtual equipment in a corrective maintenance scenario chosen by the instructor.
Our Business
Naval Electronics
Providing naval computing infrastructure, network and data distribution and middleware enterprise services, as well as world class manufacturing and support capabilities.
Training
Comprehensive Training Development and Implementation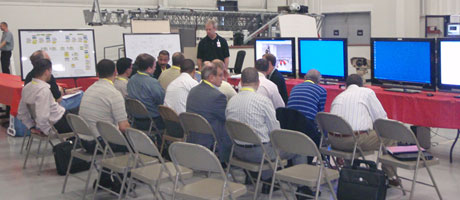 If you want to "own" a product or system, you must own the schoolhouse for that product or system. Leonardo DRS offers this capability with a wide range of training approaches tailored to meet the requirements of your contract. We have the experience and resources to develop and deliver a variety of training products.
The Manpower, Personnel, and Training (MPT) functional process is conducted to document requirement analyses for manpower, personnel, and training, including training hardware, aids, devices and support facilities. Our training specialists provide the information and support necessary to ensure operators and technicians receive the most responsive training available so they can meet mission objectives and maintain our systems and equipment.
The Training Manager (TM) for any Leonardo DRS training project works closely with the customer to ensure all training requirements and needs are satisfied. The TM's effective management is critical in the accomplishment of system training package development. The TM authors a comprehensive training development plan that is delivered to the customer in Microsoft Project format and updated monthly. The schedule includes the duration of development tasks and notional dates for delivery of products, meetings, and dates for conducting training.
We can develop the training package for your product, provide the instructor, and deliver the training at the location of your choice. Our range of instruction delivery formats includes the paper-based hard copy products used in instructor-led training to highly interactive, dynamic, electronic products and simulators loaded on system equipment or Personal Computers for On-the-Job Training (OJT). We also provide Sharable Content Object Reference Model (SCORM) -compliant Computer Based Training (CBT) material compatible with the Navy's Learning Management System (LMS). Our Maintenance Training Simulator features 3-D gaming style, first-person interactivity that allows the student to interact with the virtual equipment in a corrective maintenance scenario chosen by the instructor.
Training Packages
Leonardo DRS' training packages result from our systematic approach to training that, coupled with a staff of Certified Training Specialists, place Leonardo DRS in demand for the U.S. Navy and the Foreign Military Sales (FMS) initiative.
Our responsive training ensures operators and technicians can operate and maintain our systems and equipment. We have the expertise, resources, and processes to develop the appropriate instructional plan that is translated into dynamic, technically accurate training products that comply with various specifications in a range of delivery forms, such as lecture based-instructor led packages, Sharable Content Object Reference Model (SCORM) -compliant Computer Based Training (CBT) and maintenance training simulators.
Training scope is determined by the requirements analyses conducted at the beginning of training development, but includes instruction in all aspects of equipment safety, maintenance, troubleshooting, and operation. We develop the curriculum, presentation material, student guides, instructor guides, job aids, learner assessment packages, and student evaluations using elements of the related technical manuals, software manuals, and component Original Equipment Manufacturer (OEM) documentation.
In addition, we have large-scale production facilities to print and bind the training materials for training conduct.
---
Logistics
Logistics Planning and Product Design and Development Services
Early logistics planning ensures that supportability is built into the product.
Requirements Traceability and Management ensure product quality and consistency throughout the product development process.
In the product design and development phase, defining the maintenance concept is a critical step as it serves as the foundation for all subsequent logistics product development and support services planning.
Logistics Support Analyses such as the Maintenance Task Analysis (MTA), and Reliability, Maintainability and Availability (RM&A) analysis are the genesis of any effective and economical logistics planning effort and includes studies of Operation Availability (Ao), Reliability Block Diagrams (RBD), and Failure Mode and Effect Analysis and the Criticality Analysis (FMECA).
Logistics Support requirements are analyzed between ILS and Engineering to ensure program goals are met. Logistics Support Analyses occur at the beginning of the system's development and are updated throughout the life of the program. When logistics support updates are required, they are introduced into the system in the same manner as the initial design documents ensuring that all aspects of support are accounted for.
Maintenance Planning, the MTA and Reliability Centered Maintenance (RCM) Analysis all define the level of maintenance support the product or system receives and thus, aligns all product support with this defining characteristic. Critical logistics support data derived from these two basic logistics analyses are sparing lists and provisioning data.
Leonardo DRS has the experience to assist you in determining what level of support is appropriate for your product or system while in the developmental stage. We can conduct the required analyses to support logistics planning for your product or system. We provide a unique viewpoint that considers the end-user's needs and limitations, and factors that into shaping the maintenance concept for a support program.
Maintenance Task Analysis
Our MTA details the resources required to implement effective corrective and preventive maintenance tasks for a system and/ or equipment. The MTA is a detailed analysis performed for every type of maintenance task required for a piece of equipment or system. Consideration is given to all support resources required to conduct each of the maintenance tasks. Data such as task intervals and task elapsed times are also factored into the analysis.
A well-prepared MTA provides critical input to support and address the needs other ILS elements, such as training and technical publications development, Level of repair Analysis, Sparing Studies, and Provisioning.
Resources captured for each maintenance task include: support equipment, tools, personnel, facilities, storage, packaging, and transportation.
Reliability Centered Maintenance (RCM) Analysis
The Reliability Centered Maintenance (RCM) Analysis process forms the foundation of the Leonardo DRS Preventive Maintenance System (PMS) recommendations that create the most effective Organizational level Maintenance Plan.
Leonardo DRS has certified RCM analysts who perform modeling in accordance with MIL-STD-2173 Reliability-Centered Maintenance Requirements for equipment using commercial RCM modeling software. The outputs of this analysis are Maintenance Requirement Cards (MRCs) and Maintenance Index Pages (MIP).
---
Technical Manuals
Technical Manual Development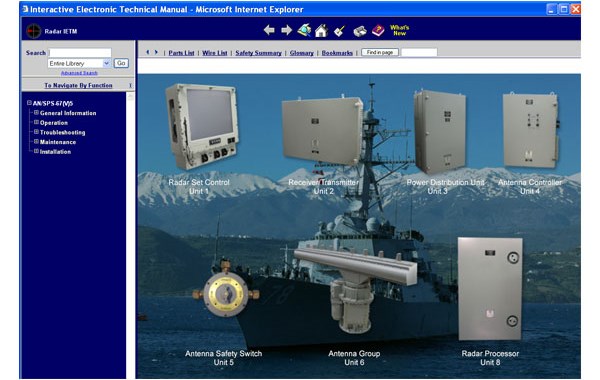 Technical manuals, whether they are paper hard copies, Electronic Technical Manuals (ETM), or Interactive Electronic Technical Manuals (IETMs) must be complete and accurate to support the operational and maintenance tasks associated with the system or equipment.
Our technical manuals are written using our proven development plan that ensures low cost, comprehensive, user-friendly products for the fleet or field operator. Leonardo DRS technical manuals are developed using certified quality processes and follow the general guidelines outlined in NAVSEA Technical Manual Management Program Guide for Quality Assurance of NAVSEA Technical Manuals (SOO5-AA-GYD-070/TMMP) REV 1.
System Operation and Maintenance Manuals are developed using data gathered empirically in a lab or factory setting, as well as from the Technical Data Package (TDP), documented Logistics Management Information (LMI), and Software Documentation.
Leonardo DRS uses teams of technical writers, technicians, and engineers to ensure manuals are written to the correct maintenance level to reduce training time and increase operational availability. We have extensive experience in authoring technical manuals for many different products in various file formats, including MS Word, XML, and SGML. In addition, we develop other technical manual forms such as Quick Reference Guides (QRGs), User's Manuals, and Shipboard Manuals in accordance with different military specifications, including TM-1 and S1000D.
Technical Manual Validation and Delivery
Final technical manual deliverables typically go through a formal validation process consisting of the physical performance method of demonstration of set-up, alignment, operating, troubleshooting and maintenance procedures witnessed by the customer.
We support all validation/verification events of our technical manual deliverables. This includes preparation of M-Demo/M-Eval Plans, Reports and Procedures, as well as conducting the Val/Ver event. A certificate of validation attesting to the successful completion of this process accompanies each technical manual delivery.
All technical manual deliverables are produced and delivered in hardcopy and electronic format as directed by the contract. We have the capability and experience to produce technical manuals in various file formats, including MS Word, XML, and SGML in accordance with different military specifications, including TM-1 and S1000D.
Related News
Contact
Stephanie Meyett
Naval Electronics
For any further information